Ford Motor Company's manufacturing operations may have ceased in its Santa Rosa, Laguna, facility earlier this year, but Ford Philippines is still on a roll.
With firecrackers, a traditional dragon dance, and a Catholic priest's blessing, Ford Philippines celebrated the opening of Ford Cainta. The newest sales-and-service outlet is the first in the country to don the American carmaker's new design standard called Brand@Retail II (pronounced as "Brand and Retail Two"). Ford Cainta is just the first of 12 new dealerships that the company hopes to open in the next six months.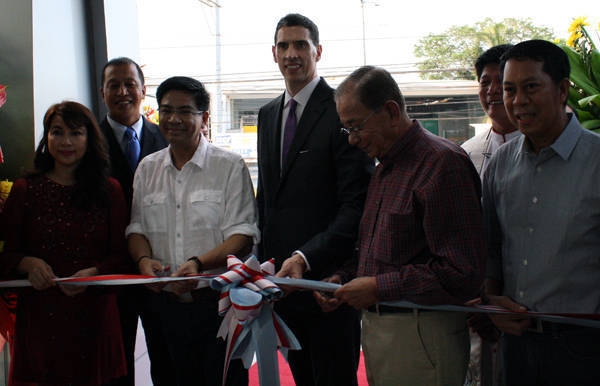 Yesterday, TopGear.com.ph had the chance to tour the new 3,000sq-m, two-story dealership with Edmund Yee, Ford Cainta's dealer principal, and Anika Salceda-Wycoco, Ford Philippines' assistant vice president for communications.
Continue reading below ↓
Recommended Videos
"Ford's four pillars of quality, green, safe and smart are reflected in the new design standard of our dealerships," Salceda-Wycoco explained.
That afternoon, the showroom was well-lit with sunlight. The Brand@Retail II design concept of green maximizes the available natural light from outside, thanks to large glass fixtures and translucent roofing that allow sunlight in. Moreover, the new facility uses LED lighting, waterless urinals, low-flow toilets and high-efficiency faucets. The dealership is also equipped with laptop computers that "use 50-90 percent less energy," according to the company.
If you live within the area, drop by Ford Cainta to see how dynamic it looks and feels compared to Ford's other existing showrooms. It is located at Km 19 Ortigas Avenue Extension, Barangay Santo Niño, Cainta, Rizal. When you enter the showroom, the distinct electric-blue reception wall greets you.
"The moment you come in, you'd feel like getting a Ford," Yee proudly said.
The showroom has an eight-car capacity, and the dealership aims to display the brand's latest models, including the all-new Focus, the Ranger, the Explorer and the Mustang.
"Ford is committed to an aggressive growth plan in the Philippines, which will be supported by a strong and expanding dealer network," said Ford Philippines president Randy Krieger.
Watch for the next Ford dealerships near you. Below are the planned opening dates of these new Ford dealerships with the Brand@Retail II design standard:
* Bohol - November 2012
* Butuan - November 2012
* Naga - November 2012
* Tarlac - December 2012
* Isabela - December 2012
* Makati - December 2012
* General Santos - January 2013
* Laoag - March 2013
* Zamboanga - March 2013
* Manila Bay - May 2013
* Baguio - First half of 2013