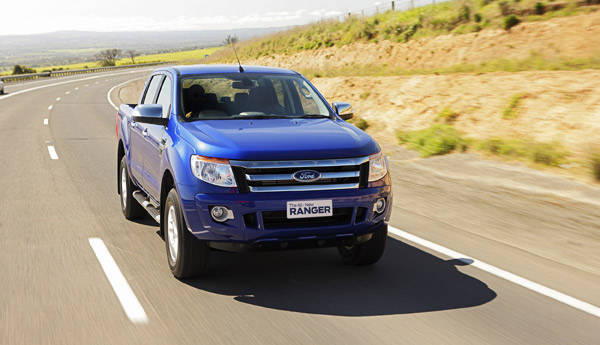 The love month was a good month for Ford Philippines in terms of sales. The company reported that it had its best-ever February performance with overall sales of 865 units, a 108% year-over-year increase.
"We're off to a very strong start to the year, as customers continue to respond positively to our full lineup of vehicles," said Ford Philippines president Randy Krieger. "So many new-to-Ford customers are appreciating our focus on fuel efficiency, smart technology, quality and safety, which we're supporting with an ongoing commitment to providing the very best Ford customer experience."
The all-new Ranger was the best-seller last month, with retail sales of 251 units. Ford will expand the Ranger lineup in the country next month by launching the Ranger Wildtrak at the Manila International Auto Show.
The company's SUVs also had strong sales performances in February. The Everest sold 191 units. Meanwhile, the Explorer moved 64 units, bringing customer deliveries to nearly 1,000 units since its Philippine launch.
ADVERTISEMENT - CONTINUE READING BELOW ↓
The Focus, which saw a 16% sales increase year-over-year from the previous generation, sold 87 units. The Mustang did 13 units last month, with customer deliveries now at 183 units since the car's launch in the Philippines last year.
"By offering customers the widest range of Ford vehicles ever in the Philippines--featuring a full lineup of segment-leading cars, SUVs and trucks--our brand is connecting with, and appealing to, a much wider variety of lives and lifestyles," said Krieger.
Ford Philippines is also improving its customer experience by expanding its dealership network. The company is on track to open new dealerships in Bohol, General Santos, Laoag, Zamboanga, Manila Bay and Baguio, growing its nationwide network to 35 by middle of this year.
Ford Philippines' 2013 sales
2012
2013
Year-over-year growth
January
367
820
123%
February
415
865
108%
Ford Philippines' February 2013 sales
Model
Units sold
Ranger
251
Everest
191
Focus
87
Explorer
64
Mustang
13
Others
259
Total
865
ADVERTISEMENT - CONTINUE READING BELOW ↓
Recommended Videos