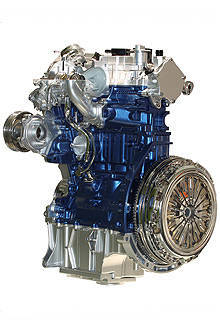 Ford has launched the volume production of its smallest petrol engine--a 1.0-liter, turbocharged, direct injection EcoBoost engine that will first debut in Europe in early 2012 before ultimately becoming available worldwide.
"The new 1.0-litre EcoBoost--and our entire family of EcoBoost engines--represent technology breakthroughs that deliver power, fuel efficiency and low CO2 emissions through turbocharging and direct injection," said Ford president and chief executive Alan Mulally as he led the launch of the engine's production facility in Cologne, Germany. "These engines are delivering to our wonderful Ford customers the fuel-efficient vehicles they want and value and, in turn, contributing to the reduction of CO2 and fuel consumption."
According to the American carmaker, its latest EcoBoost engine delivers the kind of performance expected in a traditional 1.6-liter engine. Thanks to its small 1.0-liter displacement, the new EcoBoost engine is more fuel-efficient with a mileage of 20 kilometers for every liter of fuel. It also has a low carbon dioxide emission of 114g/km. Though the engine's footprint can fit onto a sheet of A4 paper, it delivers up to 123hp and 170Nm of torque (200Nm with Ford's overboost feature), giving it the highest power density of any Ford production engine to date. A 98hp variant of the 1.0-liter engine will also be offered where its carbon dioxide emissions of 109g/km reportedly makes it the best in its class.
Ford's new 1.0-liter EcoBoost engine will first be deployed in the European-market Focus in early 2012 with the C-Max and B-Max MPVs receiving the engine as well later next year.
Ford said it invested $200 million to develop the special high-tech line at the carmaker's Cologne Engine Plant. The plant's 870 employees will be making up to 350,000 units of the new engine annually.