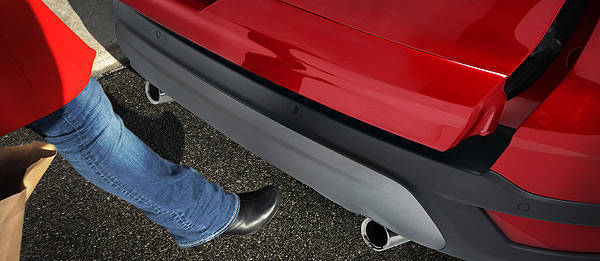 When Ford revealed that the all-new Escape would feature a hands-free liftgate that can be operated using gesture-based technology, a lot of people wondered how reliable it would be. After all, if all it took to open and close the liftgate was a simple kicking motion underneath the rear bumper, what would prevent it from either opening or closing if, say, a ball rolled underneath the bumper?
According to Ford, it subjected the hands-free liftgate system to a barrage of tests, both natural and artificial, to make sure that it only opens and closes when the owner wants it to.
Ford tested the system in numerous environmental conditions ranging from extreme cold snow to high heat and monsoon-like rain. It was also tested numerous times against errant shopping carts hitting the rear of the Escape, a bouncing basketball going under the liftgate, a dog running underneath the bumper, and someone polishing the rear bumper. Ford engineers even asked individuals passing by on a street in Dearborn, Michigan, to help the system's calibration process "by providing sample kicks."
ADVERTISEMENT - CONTINUE READING BELOW ↓
"We tested the system in various settings, including at minus 40 degrees Fahrenheit (roughly 4 degrees Celsius) in our climate chamber to freeze the bumper," said Dominik Nical, a Ford engineer in Germany who oversaw the tests. "We saw no unintended openings, and it still opened when the test subject needed it to."
The hands-free liftgate system safeguards against accidental openings by being programmed to open with a leg motion and the breaking of a miniature electric field. The secret reportedly lies within how the software is calibrated. The sensors, located between the tailpipes, detect both the shin and kicking motion of the key holder. The combination of that motion and the signals sent between the vehicle and the key fob activates the system.
"The system is very robust," Nical added. "It is designed to detect a kicking motion without deploying when other scenarios occur, making the customer confident in the technology."
ADVERTISEMENT - CONTINUE READING BELOW ↓
Recommended Videos
If you're viewing this on a mobile device and can't see the video, please click here.