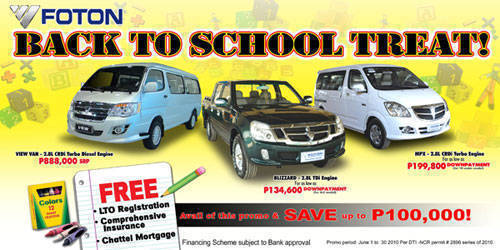 Foton Motor Philippines is offering three of its best-selling vehicles with a low downpayment and savings to boot.
Buyers can save as much as P100,000 when purchasing a brand-new 4x2 Blizzard 2.8L TDi and MPX 2.8L CRDi Turbo this month.
The Blizzard is available for a downpayment of P134,000, while ten-seater MP-X is offered with an initial cash-out of P199,800.
ADVERTISEMENT - CONTINUE READING BELOW ↓
The Foton View, which was launched at the Manila International Auto Show, is currently being offered at an introductory price of P888,000.
Purchase of these vehicles come with free Land Transportation Office registration, comprehensive insurance and chattel mortgage.
Foton's Back-to-School Treat runs until June 30.


ADVERTISEMENT - CONTINUE READING BELOW ↓
Recommended Videos