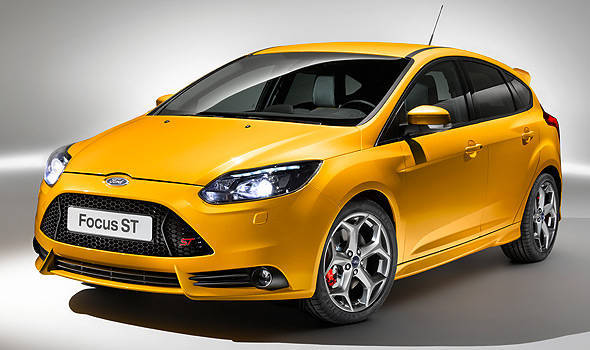 Ford has finally shown a production-ready version of its first global performance car, the Focus ST, and it seems the American carmaker is not limiting the model to just the five-door hatchback as it will also offer a wagon variant in the European market.
"The new Focus ST is a really exciting car for Ford," said Jost Capito, director of Ford's Global Performance Vehicles. "It's the first performance model to build upon the design and technology strengths of one of our new global production vehicles. It's a car built for driving enthusiasts all around the world and they will not be disappointed."
Development of the Focus ST was done by Ford's Global Performance Vehicles group composed of Ford Team RS in Europe and the people behind Ford's Special Vehicles Team in the United States with input from Ford experts in the Asia Pacific and Africa region.
Destined to reach over 40 markets on six continents, the five-door Focus ST will bring affordable, everyday performance to the world with only the smallest changes required by regional legislation being implemented. In effect, no matter where in the world a driver gets behind the wheel, the new Focus ST five-door will deliver the same sensation of power, poise and refinement as for anybody else across the globe.
Continue reading below ↓
Recommended Videos
In Europe where wagon derivatives are extremely popular in many markets, Ford found the opportunity to develop a ST Wagon as a niche model irresistible.
"We know many European buyers favor the carrying capacity of a wagon, but still want the driving excitement and performance a five-door can offer," said Matthias Tonn, chief program engineer for the Focus ST. "With such a stylish wagon in the new Focus range, we had the ideal basis on which to create a unique niche model for these customers--and it will be just as exciting to drive as the five-door."
Powering both variants of the Focus ST is a 2.0-liter, lightweight, all-aluminum Ford EcoBoost engine that produces 250hp and 360Nm of torque, thanks to its high-pressure direct injection, low-inertia turbocharging and twin-independent variable cam timing. Compared to the 2.5-liter, five-cylinder engine in the previous-generation Focus ST, the new four-pot engine offers increased performance, but its smaller capacity and innovative technology also allow it to be 20 percent more fuel efficient.
Mated to the 2.0-liter engine is a six-speed manual transmission, which has specially revised gearing to produce the maximum punch from each throw of the gear shift. The Global Performance Vehicles group spent significant attention to detail to ensure the ratio of sixth gear was perfectly in tune with the Focus ST, giving the driver optimum performance while remaining long enough to help maintain excellent fuel economy on longer runs.
Click here for more updates on the 2011 Frankfurt Motor Show
[gallery]1046[gallery]