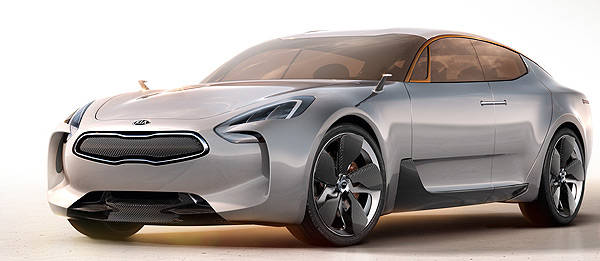 Kia could be looking to get into the sports-sedan market based on its GT concept, which the Korean carmaker currently has on display at the Frankfurt Motor Show.
"This concept allows us to explore exciting new design directions, as using a rear-drive layout creates very different proportions compared to a front-wheel drive car," said Peter Schreyer, Kia's chief design officer. "The classic front-engined, rear-wheel drive layout of a performance saloon has distinct appeal not just for the domestic Korean audience, but also for the European and American markets."
In designing the car, one of Schreyer and Kia's European design chief, Gregory Guillaume's goals was to ensure that the GT concept's proportions could not be mistaken for anything other than a rear-wheel drive performance saloon. The GT concept's extended bonnet with the front wheels pushed right to the very front of the car, the cab-rearward stance, powerful rear shoulders and truncated rear end.
Inside, the GT concept's single-piece seats float on arched supports, accentuating the cabin's spacious dimensions even further. To push the car's power and performance, Kia's design team deliberately emphasized the transmission tunnel's proportions. The glass instrument panel--similar to that first seen on last year's Pop concept car--features three layers of organic LEDs. A sophisticated instrument panel floats above the muscular centre console, further enhancing the cabin's sense of space while the large red starter button and twist-and-go transmission selector are combined in a single compact unit, further freeing up space on the central transmission tunnel.
Continue reading below ↓
Recommended Videos
"One of the great things about working on this project was that this is a very real car," said Schreyer. "It felt good to be working on a car that could roll down the road tomorrow. Yes, it would be a dream to put this into production--it has a logical layout, with four seats, and good luggage space, and it's also engaging and dynamic and makes a strong statement. It's exactly the kind of car Kia should be making."
Click here for more updates on the 2011 Frankfurt Motor Show
[gallery]1042[gallery]