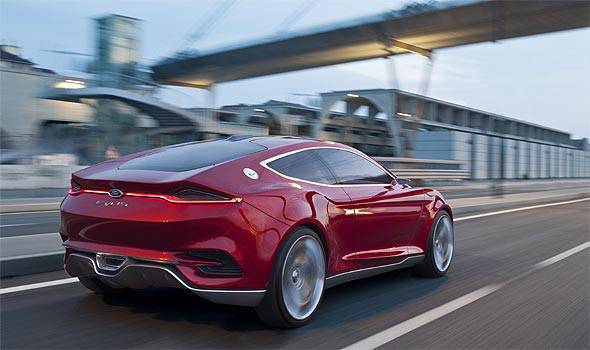 Ford has released official photos of the Evos Concept, which will be unveiled at the Frankfurt Motor Show next month. But unlike other concept cars that are just about aesthetics, Ford takes pride in introducing some of the technologies its future vehicles will carry.
"We wanted the Ford Evos Concept to give a clear message about where Ford design is heading--shaping vehicles that are fun to drive, have a strong premium visual appeal, and above all, are stunningly beautiful," said J Mays, Ford group vice president, and design and chief creative officer.
The Ford Evos Concept is a striking fastback with gullwing-style front and rear doors leading to a four-seat cabin. It runs on a lithium-ion plug-in hybrid powertrain and is packed with all the features every techie wishes to find in a car.
What were the designers thinking when they created the stunning Ford Evos Concept? This video tells it all.
As the American carmaker is bragging about developments that are more than just skin-deep, the Evos Concept offers different ways a Ford car can help you survive a hectic future.
"Our goal is to focus on enriching a customer's every experience with their vehicle--by personalizing it, adapting it, and creating unique, unexpected features that surprise and delight them," said Derrick Kuzack, Ford group vice president of global product development. "In the Ford Evos Concept, this objective is explored and extended to the area of connectivity, where the intent is not to convert the vehicle into a smartphone, but rather to provide personalized and safe connection to the outside world in an enriching manner designed totally for the vehicle context."
Continue reading below ↓
Recommended Videos
This basically means that Ford Evos Concept uses cloud connectivity to collect as much data as it can about and for the driver--be it a meeting schedule, traffic situation or the weather--to make daily driving as seamless as possible.
The Ford Evos Concept is even concerned about your health! Remember Ford's heartbeat-monitoring seats? You'll find it in the Evos.
To help you visualize all the tech goodies in the Evos, here's a day-in-the-life video from Ford.
Love it or hate it? Share your thoughts below.
Click here for more updates on the 2011 Frankfurt Motor Show
[gallery]1021[gallery]