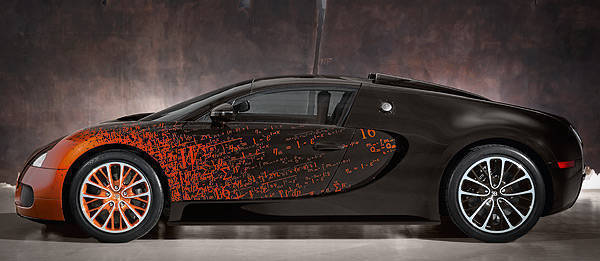 Engineered to produce over 1,000hp through an 8.0-liter W16 engine that drives all four wheels shod with specifically designed Michelin PAX run-flat tires, the Bugatti Veyron itself is a work of art.
Now, thanks to Bugatti, French artist Bernar Venet "has created an object that integrates the symbol of speed with a fascinating, painterly exterior and an interior that alludes to haute couture" by applying his artwork on the French carmaker's legendary supercar.
"A Bugatti is already a work of art in itself, one that transports both its beholder and its driver into new dimensions of reality," said Venet. "I realized how I could translate my passion for mathematical equations and scientific treatises into three-dimensional form. My works are usually self-referential. So I found the idea of translating the equations of the Bugatti engineers onto the bodywork of the car very appealing. It was, so to speak, a logical conclusion and a new challenge in terms of the specific form of collaboration and implementation. To me, the result is also exceptional when measured by artistic standards and bestows the object with a mythical character."
Venet's work distinguishes itself from those created by other artists who have also applied their works on cars. Utilizing a conceptual approach and sculptural craft for the Veyron Grand Sport, Venet used the mathematical formulae calculating the enormous power of the Bugatti engine on the car itself, in essence paying tribute "to the genius of technological science as well as the German know-how of automobile production."
Continue reading below ↓
Recommended Videos
"Our collaboration with Bernar Venet, one of the most demanding artists of our time, has led to creative impulses and inspiration that will continue to motivate us in the fields of concept and design," said Bugatti chief designer Achim Anscheidt. "We are pleased that this collaboration has resulted in the creation of a significant, collectible work of art. The self-image of the Bugatti brand derives from an artistic identity that unites sketch, drawing, technical planning and realization into an intermedial whole. Bernar Venet doubly honors our brand by making reference to the technical formulae of our engineers without fully revealing their secrets. It is a homage to the principle of dialogue and to the human capacity to question and redefine established boundaries. Venet is always focused on the essentials and so is Bugatti."
The Venet-designed Bugatti Veyron Grand Sport was recently on display at the Rubell Family Collection in Miami during Art Basel Miami Beach.
[gallery]1324[gallery]