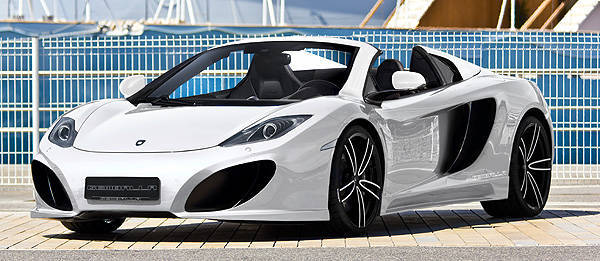 German tuning company Gemballa has gotten its hands on a McLaren 12C Spider, fitting it with an aerodynamics package and a new set of wheels to create the Gemballa GT Spider for discerning customers.
Long known as personalization experts for Porsche cars, Gemballa supposedly now offers the same comprehensive program for McLaren's cars as well.
Though the GT Spider retains the same 616hp, 3.8-liter V8 twin-turbo of the 12C Spider, its exterior gets a whole new look with the aero package consisting of a new front bumper and spoiler, side skirts, and rear valence that perfectly lines up with the original bodywork using the factory mounting points.
The tuning company is also known for its bespoke interior trim. True to its reputation, the GT Spider's cabin is swathed in orange and black leather.
The Gemballa GT Spider rolls on new GForged-one, ultra-light alloy wheels, in 20- and 21-inch diameters for the front and rear axles, respectively. Although an inch larger in diameter than their factory counterparts, the lightweight new wheels ensure that the unsprung weight of the vehicle remains unchanged.
The Gemballa GT Spider will make its debut at the 2013 Geneva Motor Show.
ADVERTISEMENT - CONTINUE READING BELOW ↓