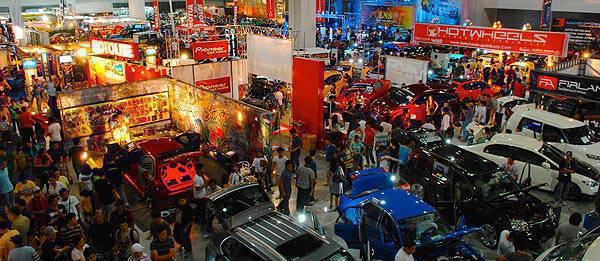 Don't feel too bad if you missed the Specialty Equipment Market Association show in Las Vegas. Its local equivalent, the 2010 Manila Auto Salon, is less than two weeks away.
To be held at the SMX Convention Center in the SM Mall of Asia Complex, the Manila Auto Salon will gather under one roof local and international manufacturers, distributors and dealers of the automotive aftermarket industry with three exciting shows: the 15th Custom Car and Show, the 15th Sport Truck Show and the 4th Mobile Electronics and Technology Show.
The 2010 Manila Auto Salon, organized by Tradeshow International, is the country's largest automotive aftermarket show with over 150 customized cars, sport-utility vehicles and sport trucks expected to compete for the Best of Show awards. In addition, over 30 vehicles with top-of-the-line mobile set-ups will be on display for the Mobile Electronics and Technology Show while the country's best performance cars will vie for the Ultimate Tuner Award.
Other activities lined up for the four-day event are:
- Speedlab's Zero to Hero Automotive Workshop where they transform a stock Mitsubishi Lancer EX into a completely modified show car in just four days at the venue;
- the Tuason Racing School - Manila Auto Salon Virtual Track Challenge where participants race on virtual version's of the country's local tracks to find out if they have what it takes to be a race car driver;
Continue reading below ↓
Recommended Videos
- the Champions of the Future, a karting program for children aged eight to 12 who dream of becoming race car drivers;
- the Manila Auto Salon in Miniature Exhibit bythe Die Cast Car Collectors of the Philippines;
- a sneak preview of the first Philippine Nostalgic Motor Show slated for 2011;
- the third leg of the European Mobile Media Association Philippines' Regional Competitors' Challenge; and
- the search for the 2010 Manila Auto Salon Race Queen.
The 2010 Manila Auto Salon will run from November 18 to 21; gates will be open from 10 a.m. to 8:30 p.m. The entrance fee for adults is P60 while tickets for children and senior citizens are at P30 and P45, respectively.