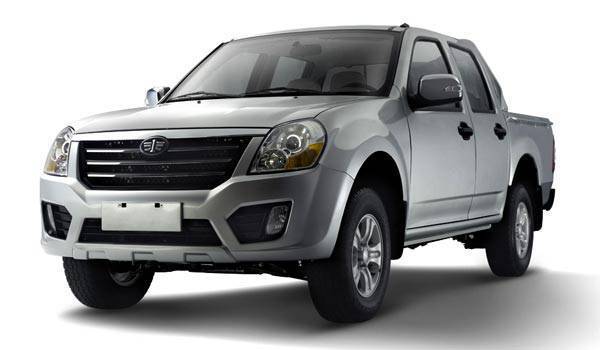 Chinese carmaker FAW, in a joint venture with American auto company General Motors, has officially introduced the Kuncheng pickup. The unveiling took place at the Changchun International Automobile Fair in Changchun, Jilin. GM says this surprisingly good-looking workhorse is targeted at small and medium enterprises, as well as private companies and individual businessmen, in China.
The Kuncheng will be made available in four variants and with a choice of a gasoline or a diesel engine. The press statement indicates that the pickup's propulsion comes courtesy of "2.2-liter and 2.4-liter engines." We're not sure which of these is the gasoline and which is the diesel.
The Kuncheng also boasts a 480mm-tall cargo box, which GM claims is 100mm taller than those of traditional pickups, giving it 20-percent more cargo room. Besides this, other "special" features include antilock brakes; a driver-oriented cabin layout; collapsible steering column; child-proof doors; a foldable backseat; front and rear power windows; power rearview mirrors; central power locks; and a high-mounted brake lamp.
The new pickup is the first fruit of the FAW-GM joint venture's assembly plant in Changchun. The collaboration between the two companies--officially known as FAW-GM Light Duty Commercial Vehicle Co. Ltd.--is a 50-50 joint venture launched in August 2009. It is focused on the production and sale of light-duty trucks and vans. The JV, which sold 88,224 vehicles in China last year, also operates manufacturing facilities in Harbin in Heilongjiang and Qujing in Yunnan.
Continue reading below ↓
Recommended Videos
Smells like a sensible import, don't you think?