Goodyear Philippines cited a fresh batch of road heroes including four public utility vehicle drivers on the fourth year of its Bayani ng Kalsada search.
The 2009 Bayani ng Kalsada awardees are jeepney driver Andy Alvarez from Zamboanga, tricycle driver Alejandro Baldevieso from Antique, bus driver Arturo Dagatal from Cebu City, nurse Georgine Manantan from Isabela, and Primitivo Salo from Pasig City.
Alvarez, this year's Goodyear Bayani ng Kalsada national winner, saved a life by taking a passenger who was having a heart attack to the hospital, setting aside his concern for his daily income.
"I really didn't think about what I was doing," Alvarez said. "I just did what needed to be done. I hope that with the Bayani ng Kalsada awards, public utility vehicle drivers will take their job more seriously, help more people in need, and stay away from drugs."
Baldevieso and Manantan were also recognized for their lifesaving moves. Baldevieso brought a man involved in a motorcycle accident to the hospital, while Manantan used her car to block a truck which was about to hit a child playing close to a road in Isabela.
"My instinct as a mother took over and I thought about my own children when I saved the child," Manantan said. "I know in my heart that if my kids had been in need, I would want someone to help them."
Continue reading below ↓
Recommended Videos
Meanwhile, Dagatan and Salo showed heroism on the road by finding a way to return money left by passengers in their respective vehicles. Dagatan brought a wallet full of cash found in his bus to a radio station in Cebu in the hope that it would be returned to its owner. Salo, on the other hand, sought the help of a Manila-based radio station to find the owner of a wallet containing more than P80,000 worth of dollar bills left in his taxi.
"I have always taken care of my dignity as a taxi driver," Salo said. "I do not seek awards or commendations. A hero is one who loves his neighbor and watches out for them. As Filipinos, if we believe in this, we will start to see change happen in our nation."
Prizes for this year's Bayani ng Kalsada awards include cash worth up to P50,000, accident insurance worth P500,000, a Pera Card with P10,000 from Cebuana Lhuillier, P3,000 worth of training certificates from Centro Negosyo and a special jacket from Goodyear.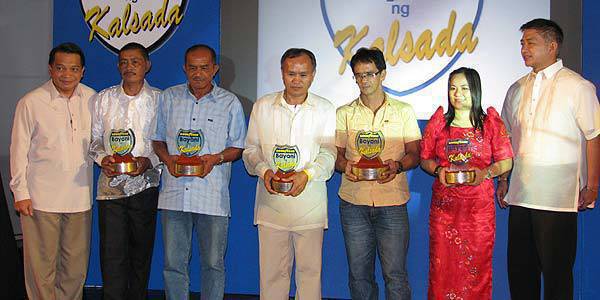 From left: Department of Transportation and Communications assistant secretary Alberto Suansing, Goodyear Bayani ng Kalsada awardees Alejandro Baldevieso, Arturo Dagatan, Primitivo Salo, Andy Alvarez, Georgine Manantan, and Goodyear Philippines managing director Gerry Alava.