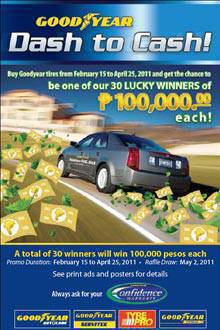 Is it time for you to change your tires? This must be a lucky season for you as Goodyear Philippines is giving its customers a treat with its Dash for Cash promo where customers get the chance to be one of 30 winners of P100,000 in cash.
Starting February 15, a single receipt purchase of two tires from Goodyear's Assurance, DuraPlus, GT3, Wrangler D-Sport, Cargo G26 and NCT5 product lines entitles a buyer to one raffle coupon in the form of a completely filled out Confidence Warranty Card.
Those who purchase two Assurance Fuel Max, Wrangler HP AW, Wrangler AT/SA, EF2 GSD3, EF1 Asymmetric or Excellence tires are entitled to two raffle entries.
As an added bonus, every purchase of four new Goodyear Assurance Fuel Max tires instantly entitles a buyer to a free fuel card worth P500.
"We wanted to get an early jump on the travel season by enticing tire buyers with free fuel vouchers and a change to offset the costs of a brand new set of tires," said Ernest John Estrera, Goodyear Philippines' new marketing director. "The coming hot summer months are filled with travel plans, so apart from continuing to educate our consumers with automotive and maintenance and tire safety measures, we want to give added incentives to replace their old and worn tires without hesitation."
Continue reading below ↓
Recommended Videos
Goodyear tire buyers in the Philippines are assured of world-class quality tires that are free from defects in workmanship as reflected in the Goodyear Confidence Warranty program. Unique in the local tire industry, this program provides buyers with a warranty card that is valid up to four years from the date of purchase.
Goodyear Philippines' Dash for Cash promo runs until April 25.