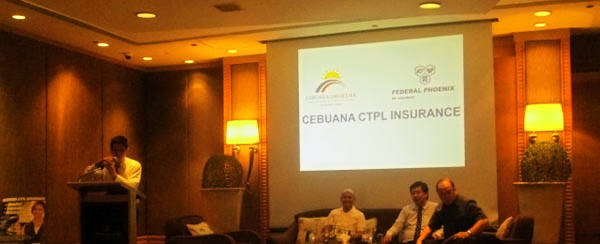 Come January 2013, car owners will have another option when processing their vehicles' Compulsory Third Party Liability (CTPL) insurance renewal and claims. A CTPL insurance is, of course, a requirement when you register your car with the Land Transportation Office.
At a press event yesterday, car insurer Federal Phoenix Assurance (FPAC) and microinsurance agency Cebuana Lhuillier Insurance Solutions (CLIS) announced their partnership's program called Cebuana CTPL. With this program, vehicle owners can opt to renew their CTPL policies at any Cebuana Lhuillier pawnshop instead of having both CTPL renewal and car registration processed at an LTO unit.
According to CLIS general manager Jonathan Batangan, the program aims to "decentralize CTPL issuance." In addition, Batangan explained that the collaboration aims to reduce--if not eradicate--fake CTPLs, and to make CTPL renewal and claims processing more accessible and convenient.
With Cebuana CTPL, vehicle owners just need to bring the requirements (LTO registration certificate and official receipt) and pay at any of the 1,500 Cebuana Lhuillier pawnshops nationwide to renew their policies. Claims processing is just as convenient because policy holders can file for claims at said pawnshops.
"If you filed for Cebuana CTPL in Batangas, you can file for claims in Batanes," FPAC president and CEO Ramon Yap Dimacali said. The FPAC chief executive further pointed out that the convenience the program offers is designed to gain the trust of people in insurance. "We want to make people believe in insurance companies and believe that we do address their claims."
Continue reading below ↓
Recommended Videos
While going for a Cebuana CTPL may mean running two different errands--one at a pawnshop and another at an LTO unit--this may mean savings in terms of money and time. Customers need not worry that they are being charged a fortune just for CTPL, as executives of both companies stressed at the launch that they "charge the legal premium for CTPL."
According to the FPAC and CLIS, the legal CTPL premium is P449.08 for a sedan. The cost goes up to P610.40 when other taxes and charges--such as document stamps, E-VAT, local government tax and LTO interconnectivity--are added. Cebuana CTPL charges P626.75 for sedans.
The FPAC and CLIS executives also emphasized that claims processing with Cebuana CTPL may save vehicle owners time. Batangan said that, with valid and complete claims documents, Cebuana CTPL claims filing can take just 10 minutes, while claims processing can take just two days.
Now, here's the interesting question here: Won't vehicle owners have trouble with an LTO agency if they avail of Cebuana CTPL? Ideally, no, said Dimacali, who claimed that they are in good terms with the government agency. "We would like to receive feedback in case an LTO unit doesn't accept our CTPL," the FPAC president added.
Well, the guys behind Cebuana CTPL had better prepare for a lot of feedback then. Their business will certainly displace "enterprising" individuals at the LTO. Count on it.