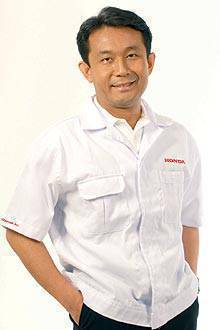 The current president and general manager of Honda Cars Philippines, Hiroshi Shimizu, is finally ending his Manila tenure effective April 1. And apparently, this is welcome news to everyone involved--from HCPI staff to Honda dealers. Shimizu has completed his four-year tour of duty after arriving here in 2007. The motoring press first met him at the launch of the present-model CR-V, in which he was endorsed by his predecessor, the widely-liked Takashi Sekiguchi.
Now, why is this newsworthy?
Since Shimizu took over, Honda has faded in the background in our market, even taking a back seat to Korean carmaker Hyundai, which overtook it last year as the Philippines' number three car company based on unit sales. Honda's sales dipped so low that last year--when CAMPI declared a 27.2-percent overall growth for the Philippine car industry--Honda's 12-month sales actually went down from 17,168 units in 2009 to 16,604 in 2010. The HCPI president's critics were quick to blame his lack of belief in marketing and also his propensity for safe sales projections. The first saw HCPI cutting back big-time on its advertising and marketing spending, while the second resulted in a shortage of units for fast-selling models.
Continue reading below ↓
Recommended Videos
To Shimizu's credit, however, there are several defenders who insist that HCPI actually became more profitable under his watch. They say he did this by eliminating unnecessary expenses and doing away with ridiculous sales promos that the competitors had always employed.
In the end, whether Hiroshi Shimizu did Honda Cars Philippines more harm than good (or more good than harm) is debatable. We suppose the best way to answer this is by taking the poll below. As for HCPI and Honda dealers? We guess the general sentiment is best summed up by this statement given by one HCPI employee: "We don't want to celebrate; the date of effectivity falls on April Fool's Day."
[poll]210[poll]