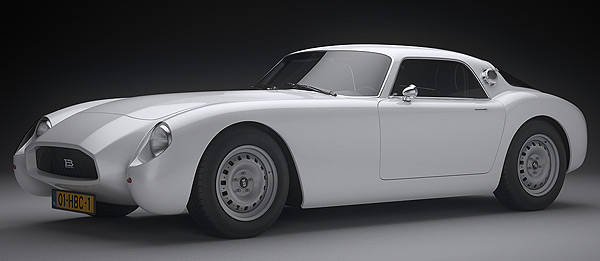 A new, small-scale Netherlands-based car manufacturer owned by two siblings, has announced that it is producing a limited number of a classically styled, hand-built sports car that comes with "a reasonable price." The company is Huet Brothers and the car is the HB Coupe.
To be produced with a limited production run of only 40 bespoke units in 2014, the HB Coupe is to be made available as the Coupe Classic, a fuel-efficient sports car that boasts classic lines and modern-day convenience, and the Coupe Road Racer, a road-going race car that can be driven daily.
With full carbon-fiber monocoques, the Coupe Classic and the Coupe Road Racer weigh only 800kg, but can be fully optioned to be equipped with amenities like climate control, heated seats, entertainment system, and even a place for your bags.
Both the Coupe Classic and the Coupe Road Racer are equipped with a six-speed manual gearbox and a limited slip differential. Two different engines will also be offered with the two variants: a standard 2.0-liter, in-line-four that produces 170hp, or a Cosworth-tuned 2.0-liter, in-line-four that puts out 255hp. According to Huet Brothers, the two engines put the cars' 0-to-100kph time at under five seconds for the standard engine and under four seconds for the Cosworth-tuned mill.
Continue reading below ↓
Recommended Videos
Although Huet Brothers claims that it has already received 14 pre-orders for the European market, with 13 on the waiting list for the USA and Canada, it says that it still needs 26 more pre-orders from Europe before it can start the HB Coupe's production.
So, if you've got around €67,800 to spare for the standard HB Coupe or around €78,500 for the Cosworth-powered model, and you want a car that's uniquely yours, now would be a good time to send an e-mail to info@huetbrothers.com. After all, Huet Brothers has said that reserving a production slot for the HB Coupe "is on a first-come, first-served" basis.