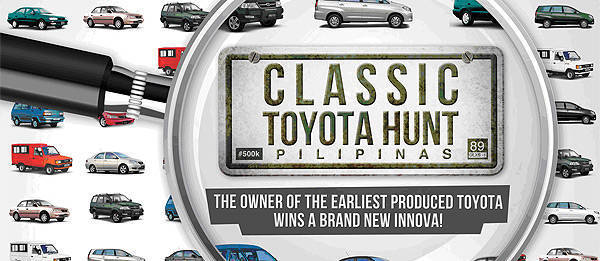 If you happen to have an old Toyota sitting in your garage, you just might win a brand-new Innova from Toyota Motor Philippines.
In celebration of its 500,000th production milestone, TMP is searching for the earliest Philippine-made Toyota vehicle since the Japanese carmaker started its local production in 1989.
To qualify, the vehicle must be in running condition and its engine, body and chassis must be original and has not been modified or tampered. TMP adds that its Classic Toyota Hunt is open to the current owners of any locally produced Toyota vehicle by TMP, which includes the Corolla (1989 to 2007), the Corona (1991 to 1998), the Crown (1989 to 1998), the Camry (1999 to 2006), the LiteAce (1989 to 1998), the Tamaraw and the Revo (1991 to 2004), the Innova (2004 to present), and the Vios (2007 to present).
To be eligible to win the Innova, interested participants must completely fill up an entry form at their nearest Toyota dealer and drop it at the designated drop box together with a copy of their valid ID and a photocopy of their entry vehicle's certification of registration and official receipt. The deadline for the submission of entry is on April 14 at 5pm.
For more information on the Classic Toyota Hunt, interested participants may contact TMP's Customer Assistance Center at (02) 819-2912 or visit any of the 31 authorized Toyota dealers nationwide and look for the dealership's customer relations officer.
Continue reading below ↓
Recommended Videos