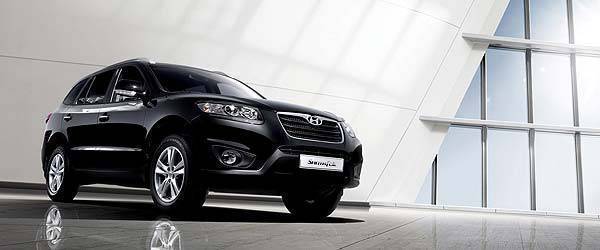 Hyundai Asia Resources, Inc., the exclusive distributor of Hyundai vehicles in the Philippines, aims to redefine the Filipino's motoring lifestyle by showcasing the Santa Fe in a nationwide tour.
The Hyundai Santa Fe crossover sport-utility vehicle (SUV) LiFe Changing Tour kicked off on June 21 at SM malls in Baliwag, Batangas and Davao. The tour will take the Santa Fe to the following venues:

The Hyundai Santa Fe LiFe Tour Schedule
Date
Venue
June 23 to 29
SM City San Lazaro
June 24 to 30
SM Mall of Asia
June 25 to July 1
Walter Mart - Gapan
June 25 to 27
Glorietta
June 28 to July 4
Robinsons Galleria
June 28 to July 4
SM City Cebu
June 28 to July 4
Lim Ket Kai Mall (Cagayan de Oro)
June 28 to July 4
SM City Bacolod
June 28 to July 4
CSI City Mall - Dagupan
June 28 to July 4
Virra Mall
June 30 to July 6
SM Supercenter Molino
July 1 to 7
SM City Sta. Rosa
July 2 to 4
Alabang Town Center
July 5 to 8
Robinsons Iloilo
July 5 to 11
SM City Marikina
July 5 to 11
Robinsons Place Manila
July 5 to 11
Robinsons San Nicolas (Ilocos Norte)
July 5 to 11
SM City Baguio
July 5 to 11
KCC Mall - General Santos City
July 5 to 11
SM City Pampanga
July 12 to 18
SM City Bicutan
July 12 to 18
SM City Naga
July 12 to 18
Mindpro Citimall
July 12 to 18
Family Choice Megamart - Santiago City
July 15 to 21
SM City North Edsa (AV Jollibee side)
July 22 to 28
SM City North Edsa (UGF center)
"The Santa Fe facelift is now re-engineered with a much-refined exterior styling, and offers two new engine choices: the R eVGT diesel-fed powerplant--the third-generation CRDi diesel engine technology in 2.2-liter displacement and the Theta II 2.4-liter gasoline engine," Hyundai Asia Resources said in a statement.
The 2010 Hyundai Santa Fe comes in two-wheel and four-wheel drive variants (see photo gallery below). Click this link to view the entire Santa Fe lineup in our Buyers' Guide.

Aside from getting a chance to check out the 2010 Hyundai Santa Fe, LiFe Changing Tour visitors will also catch the World Cup fever with Hyundai's FIFA-inspired activities and items found in the exhibit area.
ADVERTISEMENT - CONTINUE READING BELOW ↓
This follows Hyundai's celebration of the 2010 Hyundai Next-Generation Manila Cup Football Festival in May.
Hyundai in Korea recently launched its One Million Dream balls for Africa, a program aimed at donating a million soccer balls to soccer players in Africa.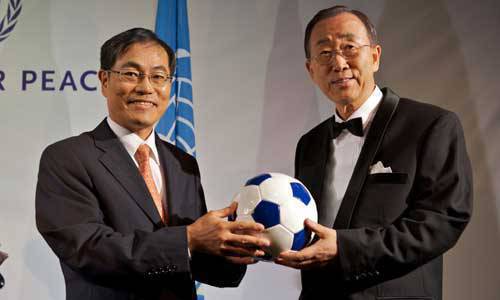 Hyundai Motor president and chief executive Steve S. Yang (left) hands over Hyundai's first Dream Ball to the Secretary-General of the United Nations, Ban Ki-moon during the 'Sports for Peace Gala 2010' recently held in Johannesburg, South Africa as part of Hyundai's 'One Million Dream Balls for Africa' project.