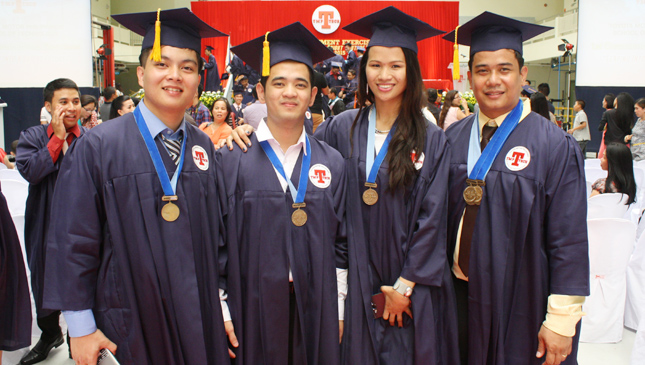 The automotive industry is a highly competitive, rapidly changing global playing field. If you plan on being a part of it, you're going to have to do everything in your power to keep up. We aren't just talking about the big guys in suits, as the same is true with the last man in every manufacturing plant and dealership.
This morning, we attended the first-ever commencement exercises of the Toyota Motor Philippines School of Technology (TMP Tech), and we have to say the future of this inaugural batch is looking bright.
Among the standouts in this year's batch is Melvin Lunar, recipient of the "Most Outstanding Student" award. According to Lunar, he has received plenty of job offers leading up to the ceremony, including one from Lexus Manila, where he had his on-the-job training. "I'm very, very proud," he said. "In a way, it finally feels like mission accomplished. I wasn't expecting to receive all these awards. On my part, I just studied diligently."
Joel Lawrence Matito, winner of the "Best in Engine Systems" award, described his achievement as extra special because he previously had been unable to finish his college education. "It feels different because this is a Toyota school," the graduate said. "I wasn't able to finish on a college level, so this feels like my real graduation."
Continue reading below ↓
Recommended Videos
Like Lunar, Matito also has a number of job offers lined up.
TMP president Michinobu Sugata congratulated the students and thanked their instructors, saying that this graduating batch was proof of what Filipinos are capable of in the auto industry.
"To our TMP Tech trainers, instructors, faculty and staff, TMP salutes you for your dedicated service in bringing out the potential of these graduates," the executive said. "Our sincerest gratitude for your guidance, faith and confidence in allowing us to show the world what Filipinos are capable of, given the right opportunity."
A total of 109 students graduated from TMP Tech this year, with all of them awaiting deployment in the automotive industry. Yes, you read that right: All of them have jobs already waiting for them, either at Toyota dealerships or with overseas dealer partners. Lunar and Matito are just two of the success stories marching out of TMP Tech today.
A big salute to both Toyota and this year's TMP Tech graduates! You guys deserve it.
Photos by Drei Laurel