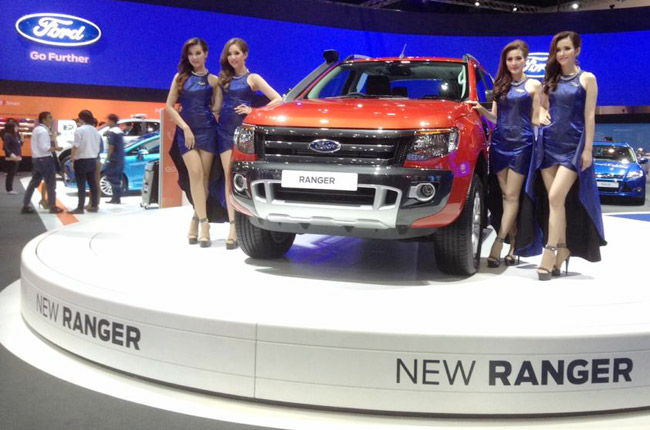 The 2014 Bangkok International Motor Show opens tomorrow, March 26, at Challenger Halls 1 to 3 of the Impact Muang Thong Thani complex.
This year's show promises to be the biggest ever after the event organizer, Grand Prix International, moved the accessories zone out of the Challenger Halls and into the activity area adjacent to the venue.
"This results in approximately 4,000sqm bigger area inside the main hall," said GPI senior vice president Jaturont Komolmis. "As a consensus, every car exhibitor is able to add up a number of cars on display, including new car models and concept cars."
The concept cars that will be on display at the show are the BMW i8, the Chevrolet Adra, the Ford Everest Concept and an unnamed model from Toyota. New-model production cars that are expected to be on the show's floor are the Honda City, the Hyundai i40, the Mazda 3, the Porsche Macan, the Subaru WRX and the Volkswagen Caravelle.
The event will also serve as the ASEAN-market launch of Rolls-Royce's Ghost Majestic Horse Collection, of which only 35 units will be produced for the global market, and the Q By Aston Martin bespoke service with a V12 Vantage S on display.
Continue reading below ↓
Recommended Videos
In spite of the political crisis that Bangkok is currently experiencing, GPI downplayed its effect on the economy, particularly for the local car market.
"Even though the current political situation may affect the 35th Bangkok International Motor Show, it only retards people's buying decision," added Komolmis. "I am confident that this show will bring back the lively selling and buying atmosphere by instilling consumer confidence among visitors, reminding them that the situation is not as bad as they might think. Seeing new innovations and technologies in close proximity for 12 days will restore buying demand among the visitors."
The Bangkok Motor Show will run until April 6.
Photo by Tracy Carpena