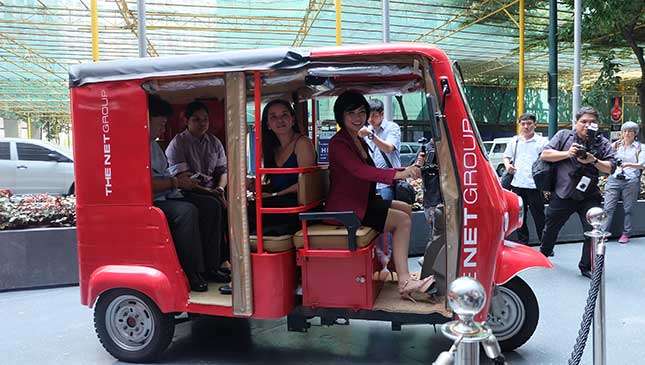 Happy tenants, happy workplace. The executives of eco-friendly building developer The Net Group hope to put a smile on the faces of their tenants in Bonifacio Global City by lightening their commuting burdens.
At present BGC only has two modes of transportation: shuttle buses and passenger jeepneys. We all know that both PUVs always get stuck in traffic.
This depressing scenario prompted The Net Group, led by Raymund Rufino and EMotors, Inc. president Elizabeth H. Lee, to join forces in launching a free shuttle service using Züm electric tricycles or e-trikes, for some 30,000 tenants and employees occupying two buildings of The Net Group within the heart of upscale BGC.
Continue reading below ↓
Recommended Videos
The Net Group and EMotors share the same goal of promoting environment-friendly projects and products. But here's the catch: The e-trikes shuttle service is exclusive to occupants of The Net Group buildings within BGC. According to Atty. Tina S. Samson, co-president of The Net Group, the program is purely a private undertaking. "We want to position ourselves differently from other developers," Samson stressed. "From the time we construct to the time you occupy, we provide additional services. What we want is tenant retention," she added.
Based on apprehensions of losing their clientele as the shortage of public transportation and daily traffic worsens, The Net Group is offering the occupants of two of their buildings—Net Park and Net Lima—free shuttle service using e-trikes.
The e-trikes, which have a six-passenger capacity, will be operating only during rush hours—from 7am to 9:30am, from 11am to 1pm, and then from 5pm to 7pm.
Instead of 'drivers,' Lee prefers to address the operators of the e-trikes as 'pilots.' The initial batch of pilots are mostly composed of women. And to prove that the Züm electric shuttles are not only safe, emission-free and noise-free, but woman-friendly vehicles as well, Lee personally drove the three-wheeler around 5th Avenue while wearing a pencil skirt, office blazer, and high-heeled shoes.
On the other hand, Samson stressed that the project is still in its experimental stage. In December this year, the group will evaluate if it will continue and expand the routes of the e-trikes. The Net Group has seven buildings inside BGC. It is also considering having more e-trikes in the future, too.
Those who can avail of the free shuttle will need special IDs to be issued by The Net Group management, according to Samson.
Do you think this will be enough for us to see smiling faces in this fast-developing but traffic-prone business center?