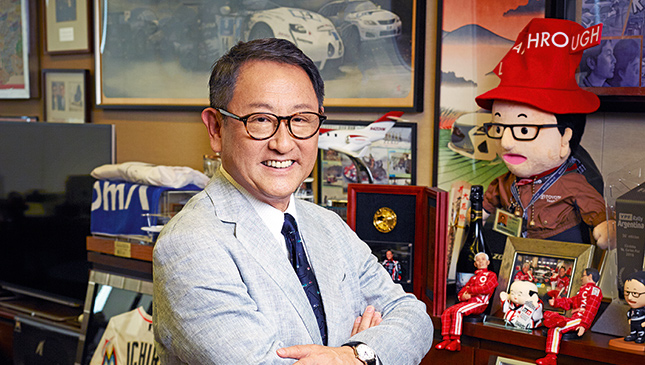 There are a handful of motoring personalites that resonate throughout the entire industry, and Akio Toyoda is one of them. During the 30th Anniversary Celebration of Toyota Motor Philippines at the Grand Ballroom of Grand Hyatt Manila, we noticed while perusing the press kit that the main man and president of Toyota Motor Corporation was lined up to say a speech. Holy cow!
ADVERTISEMENT - CONTINUE READING BELOW ↓
Akio Toyoda is the father of Gazoo Racing, and he is responsible for bringing the thrust toward motorsports back at Toyota. His presence in the Philippines during the momentous occasion is also proof of how important this 30th anniversary milestone is, not just just for Toyota Motor Philippines, but for the entire global Toyota family.
On display at the ballroom were a bone-stock Toyota Tamaraw, made-in-the-Philippines Innova, and the recently launched, made-in-the-Philippines, best-selling sedan--the all-new Vios. Apart from President Rodrigo Roa Duterte who was also lined up to give a speech, we were also excited about Akio Toyoda being there.
Toyoda has an on-track racing alias. You've probably seen stickers of his anime, race driver alter ego 'Morizo' proclaiming: "I love cars!" Toyoda is acknowledged by the entire industry as being a car-crazy CEO, and he often joins endurance races as well. The man is also responsible for wanting to bring the excitement back into the auto industry with cars that are fun to drive. That's something that we can all get behind.
ADVERTISEMENT - CONTINUE READING BELOW ↓
Recommended Videos
Alfred Ty, vice chairman of Toyota Motor Philippines, said: "TMP has never been more dedicated in transporting the Filipino people as we continue to provide always better cars, always better lives. We foresee the future to be bright and exciting, and we at Toyota have shifted our mindset from simply dreaming big, but to reach for the impossible."
No doubt Akio Toyoda supports that goal.
Congratulations, Toyota Motor Philippines, on your 30th Anniversary milestone!