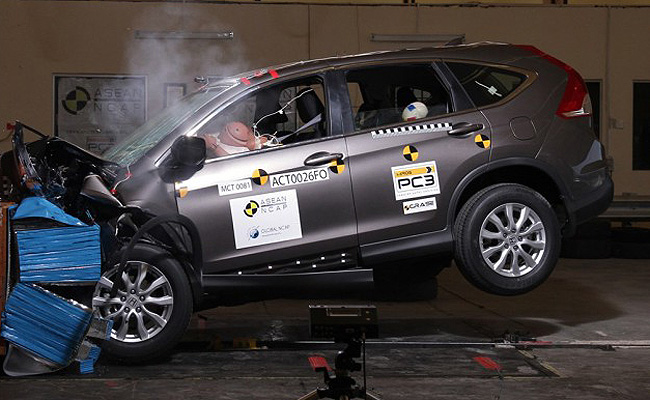 The New Car Assessment Program for Southeast Asian countries has just released its latest crash-test results. A total of 11 cars were subjected to the standard offset front collision at 64kph and, as a new parameter to the tests, a mobile side collision at 50kph.
Of the nine cars tested, seven are locally available: the Honda CR-V, the Toyota Corolla Altis, the Chevrolet Colorado, the Volkswagen Polo, the Kia Picanto, the Chevrolet Sonic, and the Isuzu D-Max. Completing the lineup are the Proton Preve and the Peugeot 208.
Topping the latest round of tests are the CR-V and the 2.0-liter Corolla Altis; both cars received the maximum five-star rating for adult occupant protection (AOP), their while child occupant protection (COP) was rated four stars.
For the Colorado, while it scored five stars for AOP, it only earned three stars for COP.
Claiming four stars for both AOP and COP are the 1.8-liter Corolla Altis, the D-Max, the Picanto, the Polo, and the Sonic.
The no-airbag Picanto flunked the tests as the car failed to score a single star for AOP and only a single star for COP.
The latest ASEAN NCAP test is notable because, for the first time, the organization was able to test a left-hand-drive vehicle: the Philippine-market CR-V.
Continue reading below ↓
Recommended Videos
Check out the video of the Honda CR-V being subjected to the ASEAN NCAP crash test below.
If you're viewing this on a mobile device and can't see the video, please click here.