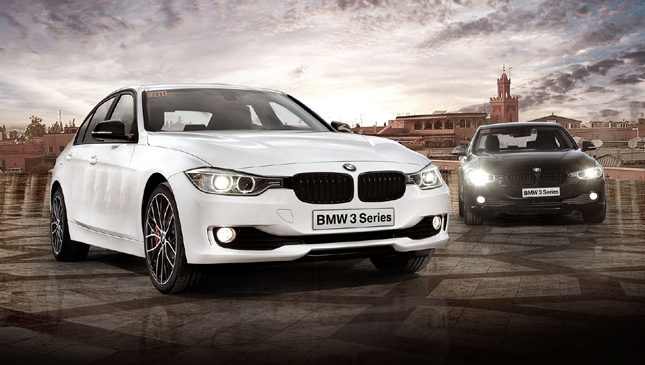 We know a lot of you are looking forward to seeing the new Mission: Impossible flick. You know, the one featuring that spectacular-looking car chase featuring the new BMW M3 and a bunch of Motorrad S 1000 RRs. The movie will be coming out this weekend, and we just can't wait to see the entirety of that chase sequence (although it does hurt a little seeing a perfectly good M3 get totaled).
Speaking of which, BMW is releasing the 40th-anniversary edition of the 3-Series, and thanks to a marketing tie-up with Mission: Impossible - Rogue Nation, anyone who drives home with the special-edition vehicle will get the chance to enjoy the full Mission: Impossible experience--an action-packed trip to Morocco to visit Rogue Nation filming locations.
The anniversary-edition 3-Series features a handful of improvements. The car sports a more dynamic-looking gloss-black kidney grille, twill-weave carbon-fiber side mirrors, M Performance rear spoiler and set of alloy wheels, BMW dash cam and Alpine hi-fi speakers. If these aren't enough to get you excited, the lucky customer to be selected for the Mission: Impossible prize will get a five-night stay at a luxury five-star hotel, a private Bell helicopter ride, stunt driving in a dune buggy, and a whole lot more to go along with the two round-trip tickets from Manila to Morocco.
If you, like most of us, just don't have the dough to shell out for a limited-edition 3-Series, don't feel too bad: You can always settle for tickets to watch Rogue Nation courtesy of BMW. Simply head on over to BMW's 3-Series 40th-anniversary microsite, share one of the anniversary-edition photos on Facebook, and get a chance to win a pair of invites to the screening this coming Friday (July 31st), 7:30pm, at BGC Central Square Cinema 3. So if you're as excited for the movie as we are, you might still want to give it a shot.
ADVERTISEMENT - CONTINUE READING BELOW ↓
Good luck!