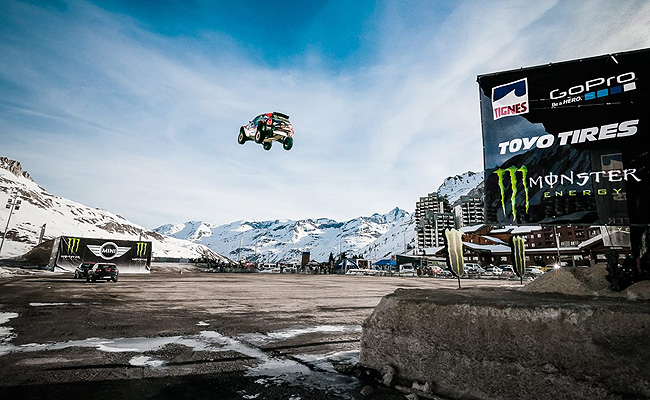 It looks like Top Gear USA TV host Tanner Foust's world record for the longest car jump of 332ft will remain untouched in the near future after Guerlain Chicherit crashed in his attempt to break it yesterday in Tignes, France.
While Chicherit cleared the distance between the two ramps, his landing was far from perfect as he crashed nose-down on the landing ramp, flipping the Mini Countryman approximately eight times on the air and on the ground before it came to a stop.
According to French news outlet TheLocal.fr, emergency services immediately attended to Chicherit before he was flown via helicopter to a hospital. Chicherit, though, was only slightly injured and immediately posted a picture of himself on his hospital bed on his Facebook page.
"Cheers everybody," Chicherit wrote in the caption that accompanied the photo. "Thanks a lot for all your support!!! I have to stay in the hospital for the night just for safety. I'm all okay!!!"
ADVERTISEMENT - CONTINUE READING BELOW ↓
You can watch the stunt attempt and the spectacular crash in the video below.
If you're viewing this on a mobile device and can't see the video, please click here.
ADVERTISEMENT - CONTINUE READING BELOW ↓
Recommended Videos