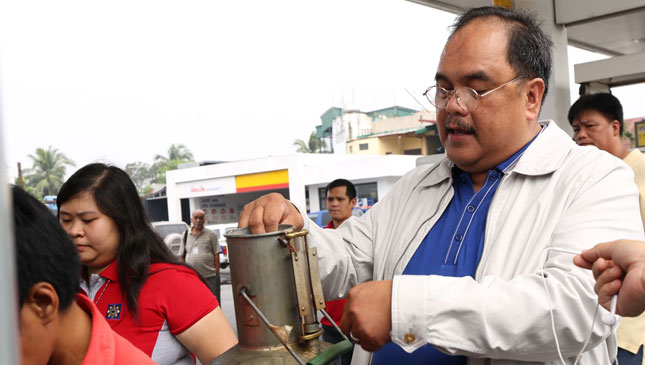 As a car owner, it's important that you use the right kind of fuel for your engine. Failure to do so could lead to all sorts of problems and damage later on. Furthermore, the chemicals used in your local gas station's products can also affect your engine's health. To this end, the Department of Energy (DOE) is intensying its efforts to ensure that the fuel you use is up to standard.
DOE secretary Alfonso G. Cusi instructed his undersecretary Donato D. Marcos to conduct inspections and sampling of liquid petroleum products in various gasoline stations nationwide. Marcos's task is to test for their compliance with existing Philippine National Standards (PNS) for fuels, especially focusing on the presence of methanol. The DOE revealed that contrary to PNS requirements, methanol is being used instead of ethanol. Methanol, when used in fuel, can cause engine damage and corrosion.
Marcos, along with OIC director for the Oil Industry Management Bureau (OIMB) Mellita V. Obillo, personally supervised the fuel inspection alongside OIMB researchers. The team used the DOE's mobile monitoring and testing lab, and applied the standard tests to determine compliance of petroleum products. After this inspection, further analysis is now being done in the research laboratories at the DOE headquarters in Taguig.
ADVERTISEMENT - CONTINUE READING BELOW ↓
"We look into the quantity and quality of petroleum products being sold to our consumers," secretary Cusi explained. "Initially, inspection results showed that all gasoline samples passed the calibration test for quantity of fuels. But for quality, only one sample is still being confirmed for having methanol at the DOE laboratory."
Cusi added: "We see the need to intensify this campaign to further protect the consumer. That is why this activity is simultaneously being done nationwide through the DOE's Luzon, Visayas, and Mindanao field offices. The DOE assures the consuming public that it will continue to hold such activities to ensure that fuels sold in the market comply with set standards."