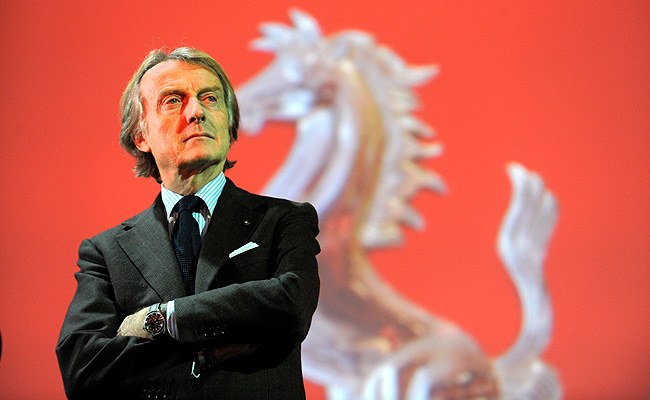 After 23 years at the helm of Ferrari as chairman, Luca di Montezemolo is stepping down from his executive post. Montezemolo's resignation comes eight months after the merger of Fiat, Ferrari's mother company, and Chrysler to form Fiat Chrysler Automobiles (FCA), and a month before the merged company is expected to launch its initial public offering at the New York Stock Exchange.
"Ferrari will have an important role to play within the FCA Group in the upcoming flotation on Wall Street," Montezemolo said in a statement released by Ferrari. "This will open up a new and different phase which I feel should be spearheaded by the chief executive officer of the group."
Montezemolo's association with Ferrari began in 1973, when he served under Enzo Ferrari. A year later, he became the manager of Scuderia Ferrari, where he saw the team win the Formula 1 constructors' championship from 1975 to 1977. From 1977 onward, Montezemolo held a number of positions in the Fiat conglomerate until its chairman, Gianni Agnelli, appointed him as chairman of Ferrari in 1991, three years after Enzo had passed away.
It was under Montezemolo's watch that Ferrari's business and Formula 1 team grew significantly. Several lucrative licensing agreements and the establishment of the Ferrari World theme park in Abu Dhabi have reportedly given the carmaker a 12% increase in revenue for the first three months of 2014 in spite of its car sales being down by 6% versus last year's sales for the same period. As for its F1 outfit, Ferrari has captured eight of the past 23 constructors' titles.
Continue reading below ↓
Recommended Videos
"Ferrari is the most wonderful company in the world," Montezemolo added in his statement. "It has been a great privilege and honor to have been its leader. I devoted all of my enthusiasm and commitment to it over the years. Together with my family, it was, and continues to be, the most important thing in my life."
Our editor-in-chief had the privilege of meeting the man in May last year, during the Italian carmaker's "Formula Ferrari" forum for the global press.