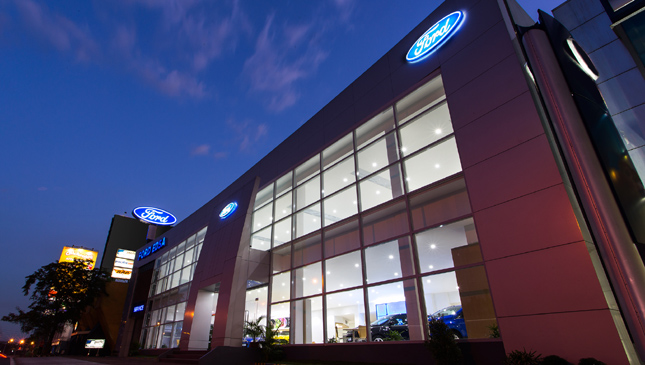 If there's one stretch of highway in Metro Manila that has seen more than its fair share of history, it has to be EDSA. And while a lot of sights along the busiest thoroughfare in the metro have changed over the years, there are a few that have stood the test of time. Ford EDSA marked its 20th anniversary yesterday, and to commemorate the milestone, it renovated and reopened the historic car dealership.
Ford ASEAN president Mark Kaufman, Ford Philippines managing director Kay Hart, and dealer principal Edmund Yee attended the ribbon-cutting ceremony. Sporting a revamped design concept in line with Ford's corporate image, the reopened dealership now has a 14-vehicle showroom and a 24-bay service area.
Kaufman thanked the American carmaker's supporters, and said that Ford EDSA is proof of the company's dedication to the Filipino motorist. "This dealership offers so much Ford history in the Philippines and is a testament to Ford's ongoing commitment to the Filipino people to provide a truly unmatched customer experience," he said. "It's an honor for me to celebrate with our dealer partners on such an exciting day."
Meanwhile, Hart believes that with the new Ford EDSA, the company can continue its mission of providing the best Ford experience for their Filipino customers. "The reopening of Ford EDSA validates how much Filipinos have embraced the Ford brand over the last two decades, and this will drive us to go even further in ensuring we deliver a consistent and world-class customer and ownership experience in all our dealerships," she declared.
Continue reading below ↓
Recommended Videos
The dealership's new features include Wi-Fi connectivity and entertainment lounges for guests and customers. Ford Philippines is hoping to expand its number of dealerships to 40 locations by the end of the year. Ford EDSA was among the earliest dealerships to operate along EDSA's automotive row, which is now home to several other car brands as well.