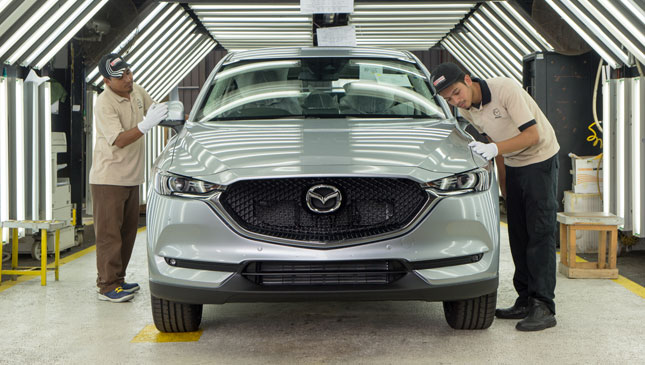 Did you know that the second-generation Mazda CX-5 was only launched in Malaysia recently? That's a full six months since the compact crossover arrived in our market at this year's Manila International Auto Show last March.
But there's a good reason Mazda Malaysia waited half a year before introducing its CX-5. Unlike us, it doesn't import this model from Japan, it assembles it in its Kulim plant. Bare body shells and body panels are shipped from Japan, and are painted and assembled in the factories located in the Malaysian State of Penang. Naturally, adopting a manufacturing process takes time, especially given that the CX-5 is a fairly new model.
Continue reading below ↓
Recommended Videos
A new paint shop worth ¥2.3 billion (P1.04 billion) was built so that the beautiful but tricky colors—Soul Red Crystal and Machine Gray—could be done in Malaysia. Production of the CX-5 began in August 29 of this year. And by November 2017, left-hand drive CX-5s will roll out of the factory. By the first quarter of 2018, our stock of CX-5s should have a 'Made in Malaysia' badge.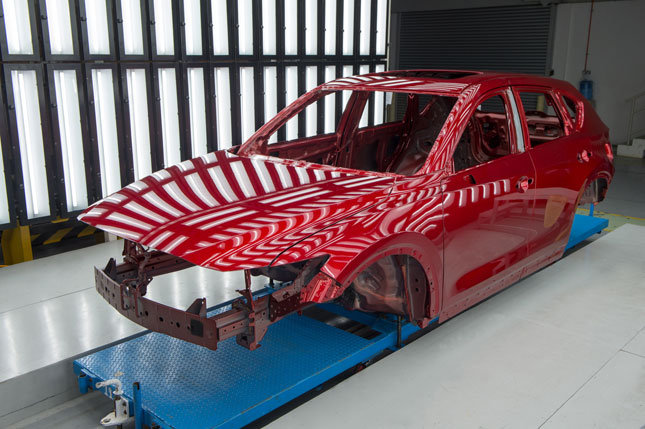 We were part of the media contingent in attendance at the Kulim plant when all of this was announced.
"We see Malaysia as an important production base in the ASEAN region and, with the aim of establishing a sturdy production system, we've worked closely with our business partners to develop manufacturing of Mazda cars here," said Mazda managing executive officer in charge of global production and business logistics Masatoshi Maruyama.
Of course this begs the question, will the product be as good as the ones that come out of Hiroshima? After all, part of Mazda Philippines's campaign in the past was a prominent 'Made in Japan' thrust, and this was something happily embraced by the buying public. What can we say? When it comes to cars there's still a lot of cachet that comes with Japan-made vehicles.
But Japanese execs assured us that the quality will remain the same. The Mazda Kulim plant has the same production flow, standard, and facilities as the so-called 'parent factories' in Ujina and Hofu in western Japan. Japanese managers are also in charge of the main sections of the production process, and they were the ones who gave us a tour of the facility. One could sense the same dedication to quality we felt when we visited the main plant in Hiroshima two years ago.
The next important question is, will the Malaysia-sourced CX-5s be cheaper? We asked Mazda Philippines president and CEO Steven Tan this question during the presscon, and the answer is a bit complicated. He said there shouldn't be any major changes between sourcing from Japan and Malaysia in terms of pricing, but there is one major factor to be considered next year—the pending excise tax increase.
"We will have to see because the excise tax and tariffs play a major role in pricing. But ultimately we will have to provide the best value possible to the customer," said Tan. We see two possible scenarios for this: Either prices go down, or our CX-5s get more features across the board. Which would you rather have?