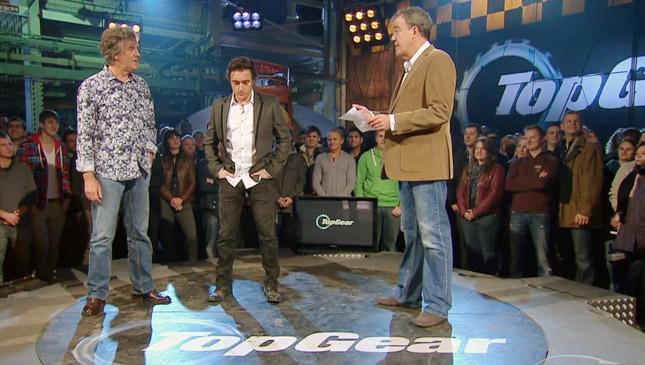 Finally, we have been given the go-ahead to post an update about the situation with the Top Gear TV show in the wake of Jeremy Clarkson's suspension. You will recall that early last week, the show's owner, British Broadcasting Corporation, released the following statement:
Following a fracas with a BBC producer, Jeremy Clarkson has been suspended pending an investigation. No one else has been suspended. Top Gear will not be broadcast this Sunday (March 15). The BBC will be making no further comment at this time.
To avoid adding unnecessary fuel to the controversy, we refrained from publishing editorial pieces about the issue. We even had to take down a couple of news-oriented articles which we had already posted on this website, in support of our UK principal's wish to restore calm and order amid all the swirling publicity.
Today, we got an e-mail from Charlie Turner, editor-in-chief of the British edition of Top Gear magazine, relaying to us the latest statement from the BBC--as well as the green light to share it with our readers. Here it is:
ADVERTISEMENT - CONTINUE READING BELOW ↓
Last week, the BBC released a statement about the current series of Top Gear, confirming that the March 15 show was to be postponed following an incident during production. The incident in question is currently being investigated, and Ken MacQuarrie, director of BBC Scotland, has been appointed to lead this process. We can now confirm that Top Gear will not be back in the studio this week and, as such, the episode due for broadcast this Sunday night (March 22) will also be postponed pending the outcome of the investigation. We will bring you more news as soon as we have it.
So there. That's officially official. But we're sure you've already read it.
Anyway, let's try not to read too much into what is being fed to us by the media, both motoring and otherwise. Nothing is official until it comes from the BBC or Mr. Clarkson himself. In the meantime, let's continue enjoying our passion for automobiles in true Top Gear fashion: enthusiastically and humorously.
ADVERTISEMENT - CONTINUE READING BELOW ↓
Recommended Videos
Cheers, guys!