It looks like Honda Cars Philippines continues to strike a chord with new car buyers in the local market. According to a study 2019 study by J.D. Power, the Japanese car manufacturer is the highest-ranking major carmaker in the Philippines in terms of sales satisfaction. It topped the same study back in 2018, too.
The J.D. Power Sales Satisfaction Index—a comprehensive analysis of local car buying and delivery experiences—ranks Honda first in the country with a total score of 832 points. Mitsubishi follows a close second with a score of 829 points, and Toyota finds itself in third with 823 points.
A total of 1,830 new vehicle owners who bought cars between Jul 2018 and April 2019 served as respondents for this year's study, which takes into account factors such as the dealer facility, delivery process, paperwork completion, and dealer website.
Nissan finished with 815 points to place fourth among local carmakers, with Suzuki rounding out the top five with 813 points. According to J.D. Power, the industry average is 820 points.
This year's study also found that first-time buyers, which made up 79% of the survey's new-vehicle buyers, are less satisfied compared to repeat customers. It found that first-time buyers have an overall satisfaction of 815 based on a 1,000-point scale, while repeat buyers scored 837.
"Getting your first car is an exciting experience but not an easy decision to make," J.D. Power Philippine country manager Sigfred Doloroso says in a statement. "Dealers can add value by not only making sure that customers get the right car for the best price, but also spending the time to celebrate this first new purchase. This can be made possible through better understanding the customers' profile, needs and preferences."
ADVERTISEMENT - CONTINUE READING BELOW ↓
Other findings include sales outlets are less likely to provide first-time buyers with a special ceremony compared with repeat buyers (66% vs. 73%, respectively), first-time buyers (33%) are less likely to compare prices with other dealerships than repeat buyers (51%), and 81% of first-time buyers are financing their new cars via loans compared to repeat buyers (69%).
Do you agree with the study's findings? Check out the full 2019 sales satisfaction rankings below and let us know in the comments.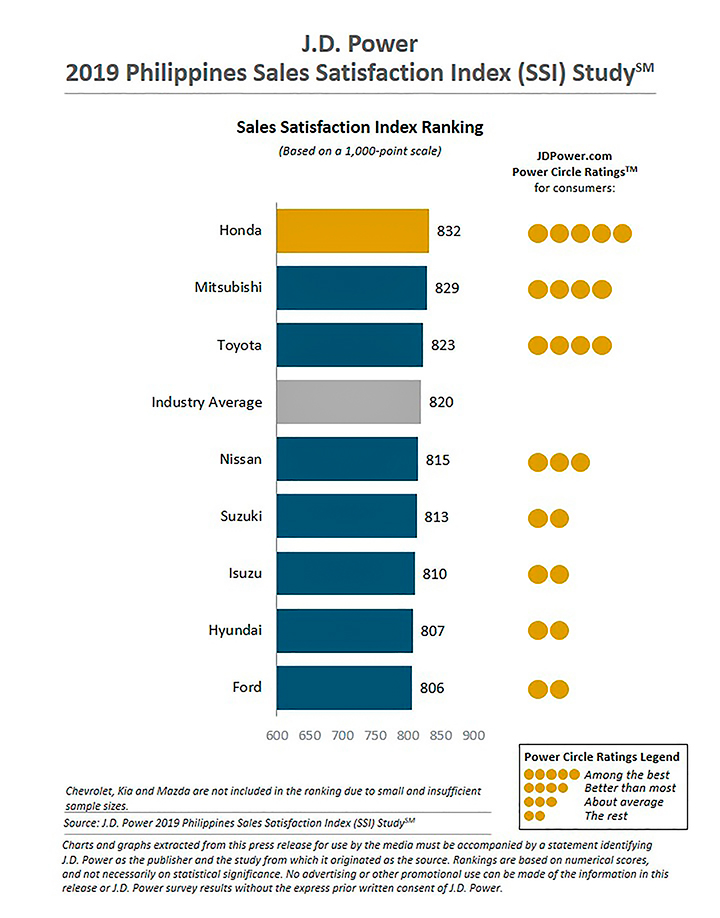 ADVERTISEMENT - CONTINUE READING BELOW ↓
Recommended Videos