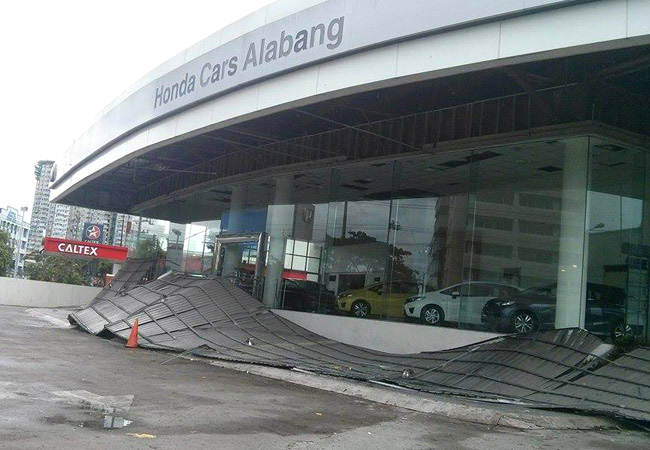 Yesterday, we shared with you 25 photos from our readers, showing the aftermath of typhoon Glenda. One of them was a photo of Honda Cars Alabang. The photo showed the dealership's ripped-off canopy lying right outside the showroom. (The photo above is from a slightly different angle, also from the same sender.)
The photo got the attention of Honda Cars Makati Inc., which owns Honda Cars Alabang. The company would like to inform TopGear.com.ph readers that the Alabang dealership is back in business starting today. The dealership sustained no serious damages for it to halt operations.
"The extent of the damage is merely what is seen in the picture," explains Mary Marasigan of Honda Cars Makati's public relations. "Prospective car buyers and customers who wish to bring their vehicles for service, are very much welcome to visit the dealership from 8am to 7pm for the sales showroom, and from 8am to 5pm for service operations, as there hasn't been any major structural damage to cause the dealership to suspend its operations. Right now, clearing operations are being done."
So, in case you need to bring your car for service because of Glenda, the doors of Honda Cars Alabang are open.
Known internationally as Rammasun, Glenda had maximum sustained winds of 140kph near the center, which is above the Skyway's speed limit.
Continue reading below ↓
Recommended Videos
Photo from Ness Pagorogon-Jordan