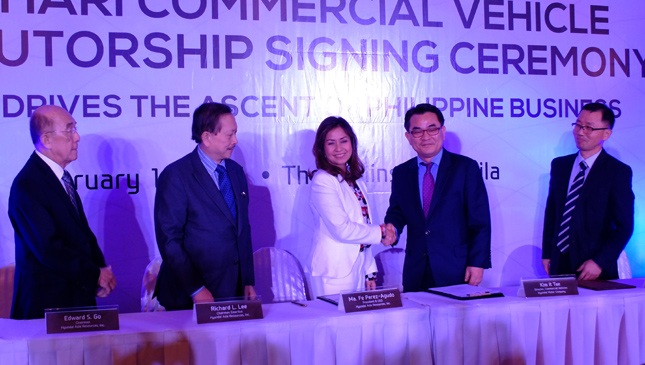 Hyundai Asia Resources Inc. (HARI) is now the official distributor of Hyundai commercial vehicles here in the Philippines, after executives from both HARI and the Korean carmaker took part in a milestone contract-signing earlier today. Commercial vehicles include buses and light- to heavy-duty trucks.
The agreement comes 15 years after HARI first began distributing Hyundai passenger cars back in 2001. The deal opens the door for Hyundai--one of the world's largest manufacturers of commercial vehicles--to solidify its brand presence in our market. Currently, it produces over 150 different commercial models for distribution in over 100 countries.
HARI president Maria Fe Perez-Agudo said that the completion of the deal couldn't have come at a better time, citing steady Philippine economic growth and the ASEAN-Korea Free Trade Agreement as the keys to an empowering business environment. The AKFTA gives HARI a distinct advantage when it comes to importation costs and ease of transactions.
"The timing is just perfect," the executive declared. "All the essential ingredients that favor our new venture are in place: a stable economy to support the demand; industries on a steady growth track; upbeat consumer confidence; a vibrant new market that welcomes new players; and an enabling policy environment characterized by the implementation of the ASEAN-Korea Free Trade Agreement."
If any of you are wondering how this news could affect you, Hyundai is actually one of the world's premier bus manufacturers. With the growing public demand for better mass transportation, and calls for the government to update or replace old bus fleets, maybe Hyundai could lend a helping hand.
ADVERTISEMENT - CONTINUE READING BELOW ↓
ADVERTISEMENT - CONTINUE READING BELOW ↓
Recommended Videos