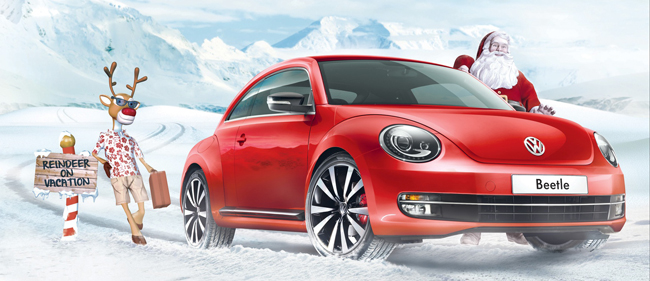 There is no doubt that the Apple iPhone 6 will be one of the most in-demand Christmas gifts this holiday season. No office party raffle will be complete without it. And good luck finding stock easily--the iPhone 6 and 6 Plus go on sale today, November 14, and there's always a mad scramble for Apple's shiny trinkets in the days, even weeks, after an iPhone launch.
This is also the time when car sales gain traction, when people flush with Christmas bonuses purchase their desired rides--or at least pool enough money for a down payment.
So, if you're looking to buy an automobile this Christmas season, and you also want to take selfies in it using the hottest smartphone currently on sale, you might want to consider visiting a Volkswagen showroom. That's because from November 15 to December 31, anyone who buys a new Polo, Jetta, Touran, Tiguan, Touareg and Beetle will also get a brand-new iPhone 6.
And you don't even have to wait in line to get the freebie. Thanks to the synergy between Volkswagen Philippines and Globe Telecom--both Ayala-owned companies--there are stocks of iPhone 6 units (64GB) already on hand in VW showrooms. We also got word that the first batch all come in the gold color, but succeeding ones will come in the other hues. Needless to say, these iPhones are Globe-locked.
Continue reading below ↓
Recommended Videos
"We believe in giving the best lifestyle choices to our customers," said JP Orbeta, president of Volkswagen Philippines. "For buyers who are looking to purchase a Volkswagen for Christmas, the iPhone 6 is the perfect companion for those who appreciate stylish and well-engineered machines."
This is a good time to check out the models in the Volkswagen stable. An iPhone 6 as a freebie isn't bad at all.