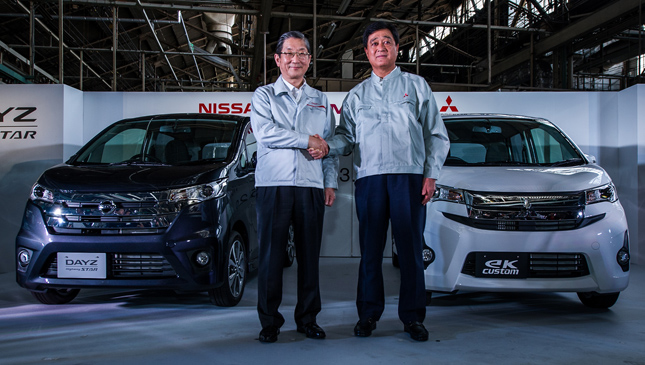 As the world continues to go crazy over SUVs and crossovers, some carmakers think there is a demand for other cars apart from these popular categories. If you look a little more closely at the auto industry, you'll see a segment that seems to be moving just as quickly--the minicar class.
In our market, proof is how sellable the Toyota Wigo and the Mitsubishi Mirage are. And we're not merely referring to our neck of the woods. Other countries like Europe and Japan just love their minicars. This is what Nissan and Mitsubishi are banking on, as they recently announced plans to continue developing the next generation of minicars together.
Through their joint venture known as NMKV Company Limited, Nissan and Mitsubishi are working hard to come up with cars that will meet the demand of people around the world, particularly those in crowded urban areas who need a safe, reliable yet convenient means of transport. Under the agreement, Nissan will focus on design, testing and development of technologies and the like. Mitsubishi, meanwhile, is poised to continue producing the minicars at its Mizushima plant in Japan. Engineering and manufacturing will be managed jointly by NMKV.
ADVERTISEMENT - CONTINUE READING BELOW ↓
If you're wondering why we said that Mitsubishi will "continue producing the minicars," that's because it actually has been doing so for some time now. In case you're unaware, Nissan and Mitsubishi have been partners in this venture since 2011, when they formed NMKV. The fruits of this marriage are the Mitsubishi eK Wagon and the Nissan Dayz that came out in June 2013. These were followed by the Mitsubishi eK Space and the Nissan Dayz Roox in February 2014. And these cars aren't merely a fad, with total combined sales having reached some 500,000 units worldwide as of September this year.
ADVERTISEMENT - CONTINUE READING BELOW ↓
Recommended Videos
So, what's next for this partnership? With alternative energy sources being the hot-ticket item these days, NMKV is working on a small car that will run on electricity. As of press time, no details have been disclosed just yet. Rest assured that we will keep tabs on this upcoming model, as well as other vehicles from the joint stable.
ADVERTISEMENT - CONTINUE READING BELOW ↓
NOTE: Photo is from 2013, when first NMKV model rolled off assembly line.