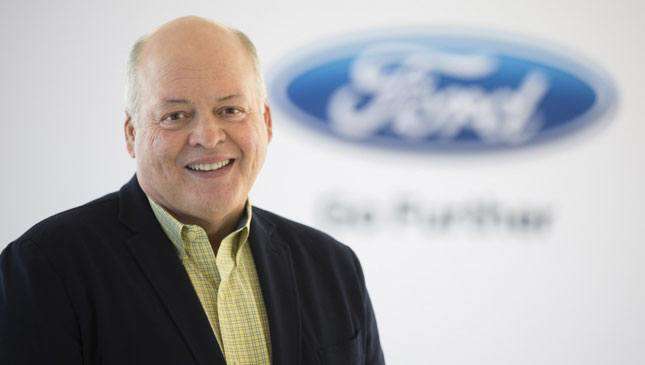 Ford's global CEO Mark Fields has retired. Well, retired is the official word. Since he went with no notice period, and he's an extremely fit 56 years old, it's safe to say he 'was retired.' What did he do wrong? Look at his successor to see what.
The new boss is Jim Hackett (pictured), who until now has been running run Ford's 'smart mobility' division. It's a signal that Ford aims to get deeper into artificial intelligence, autonomous driving, car sharing and electric vehicles. It'll want to tackle Uber, Google, and other Silicon Valley and Chinese start-ups.
Ford had been making good profits in the era since Fields took over seamlessly from his mentor Alan Mulally. Mulally had famously led Ford out of the 2009 crisis by sticking firmly to the knitting. Mulally's mantra was "One Ford." He sold off Jaguar Land Rover, Volvo, and Mazda. Instead he insisted Ford's cars became more similar around the world.
ADVERTISEMENT - CONTINUE READING BELOW ↓
It made for a smoothly running company and cut costs. Fields carried on the strategy. Profits rose when US sales rebounded after the recession. But the share price has been steadily falling.
The Wall Street analysts who set that price love to see investment in new tech. Ford isn't asleep in these areas but it's no leader either. Meanwhile, it has made one or two mess-ups in the core business too. Fields probably stuck too rigidly to 'One Ford.' Result was the EcoSport isn't the right small SUV for Europe, nor the Edge the right big one. When did Europeans last see a new Mondeo? And its US identical twin, the Fusion, hasn't been a runaway success over there.
So for the past few weeks, Tesla, which makes a tiny fraction of the number of cars and no profit, is now a more valuable company than the mighty Ford.
Ford is one of those corporations where the family whose name is above the door still owns a large stake in the firm. They don't want to see the value of their inheritance wither.
So Chairman Bill Ford has moved to install a 'transformational leader' to replace steady-hand Fields. As part of the shake-up, Ford of Europe's boss, Jim Farley, has been recalled to Detroit to run business and sales worldwide.
Bill Ford said, of his relationship with Hackett, that both of them want to speed up decision making and make the place less hierarchical. "Jim Hackett is the right CEO to lead Ford during this transformative period for the auto industry and the broader mobility space. He's a true visionary who brings a unique, human-centered leadership approach to our culture, products and services."
ADVERTISEMENT - CONTINUE READING BELOW ↓
Recommended Videos
NOTE: This article first appeared on TopGear.com. Minor edits have been made.