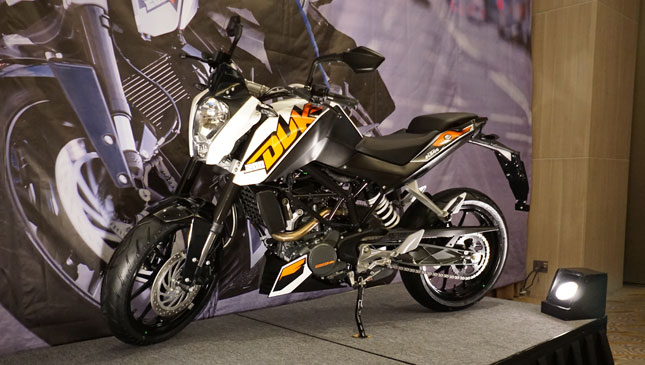 The officers of the newly formed KTM Philippines met with the media last night to talk about their plans. The press conference clarified questions about this new Ayala Corporation venture, formally known as Adventure Cycle Philippines, especially for those of us not so immersed in the motorcycle industry.
As we mentioned before, KTM Philippines will not just distribute motorbikes but will also manufacture them. This will make the products more affordable in the long run, although "affordable" is a relative term--this brand is still more upscale than the popular Japanese two-wheelers we see on the road.
The Philippine-produced KTMs will be made at Ayala subsidiary Integrated Micro-Electronics Incorporated. Projected plant capacity is 20,000 bikes a year, but KTM Philippines said it will start with 6,000 units for 2017. Half of this will be exported to China, and half will be for our market.
Selling locally is a point of pride for the KTM executives, most of whom left banking careers (also from Ayala-owned BPI) to follow their passion for this motorcycle brand. The vision is for these KTMs to be built by Filipinos and be ridden by Filipinos. KTM Philippines plans to price the products competitively, while admitting it will take some time to reach economies of scale.
Continue reading below ↓
Recommended Videos
"Our goal is to penetrate all major cities in Luzon, Visayas and Mindanao with KTM dealerships," declared company COO Dino Santos. "We will ensure that our customers have access to the full range of KTM motorcycles. At the same time, we will make certain that motorcycle service is available at all KTM dealerships."
For existing KTM owners who wonder if the new dealer network will service their bikes, the answer is yes. And for those who are interested in owning these adventure-themed machines, here's the complete price list for our market:
* Duke 200 - P169,000
* RC 200 - P199,000
* Duke 390 - P299,000
* RC 390 - P399,000
* Duke 690R - P699,000
* Enduro 690R - P699,000
* SMC 690R Motard - P699,000
* Adventure 1050 - P899,000
* Adventure 1190 - P1,199,000
* Super Duke 1290 - P1,299,000
* Super Adventure 1290 - P1,499,000
Once the KTM Philippines factory is up and running in the first quarter of 2017, the prices of the motorbikes 400cc and below--which is what the plant will produce--may change.
Are you ready to try two wheels?
UPDATE as of June 11, 2018: The 45th Tokyo Motorcycle Show in Odaiba was held from March 23 to 25 this year. The photos and videos shared by their visitors might have caused confusion among netizens since they have almost the same group of motorcycle companies showing off their latest hardware and technology. Moto Sapiens attended the Tokyo Motorcycle Show. This year, 135 companies with 882 exhibit booths showed off their latest two- and three-wheelers, modern electric bikes, accessories, and even riding paraphernalia. There were launch events of new motorcycles, relaunching of face-lifted units, and even revivals of classics by Japanese, European, American, and—wait—two Taiwanese brands.
Photos by Dinzo Tabamo