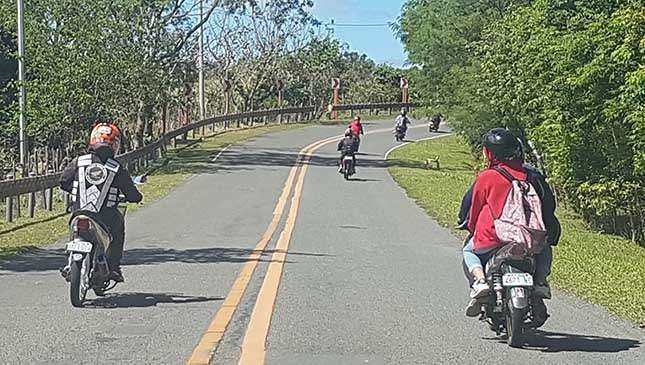 Land Transportation Office (LTO) chief Edgar Galvante noted that the number of motorcycle-related accidents is increasing at a "very alarming" rate. And the LTO will not take this sitting down, he said.
"To tell you frankly, we at the LTO are not very happy with the increase or with the development of many people buying motorycles," declared Galvante during the launch of the One Honda Road Safety campaign held recently at the newly renovated Honda Safety Driving Center in Sucat, Parañaque.
Having an audience composed mostly motoring media and employees from the Honda group of companies that manufacture both four-wheeled and two-wheeled vehicles, Galvante drew jeers from the crowd with his statement. And then he downplayed his declaration. "Actually, we're not really disappointed. But rather, it has become a very big challenge (for the LTO)," he added.
Continue reading below ↓
Recommended Videos
The drastic increase in motorcycle sales in 2016 alone, which reached 1.1 million, poses a big challenge to the government, particularly on road safety.
"I feel that the report speaks for itself; I don't have to amplify," said Galvante referring to the various reports that showed the increasing number of road accident-related deaths involving cars and motorcycles.
Based on the Metro Manila Accident Recording and Analysis System, there were 109,322 accidents in 2016. Motorcycle accidents had the biggest number of deaths with 218. This was followed by trucks with 103, and cars with 98.
Galvante warned that if the trend continues, government authorities will be forced to establish stricter laws to avert more road accidents, including those involving motorcycles.
"It's just too bad sometimes. To prevent these tragic accidents, we need to have measures enacted," he stressed.
The LTO chief appealed for understanding from motorists as many of these new laws might affect the fun and enjoyment of using of their vehicles. "We have to do something about our practice of driving to further reduce the number of accidents," he said.
Nonetheless, he expressed appreciation of Honda Cars Philippines, Honda Philippines (motorcycles) and Honda Parts Manufacturing Corporation's initiative to spread road-safety awareness.