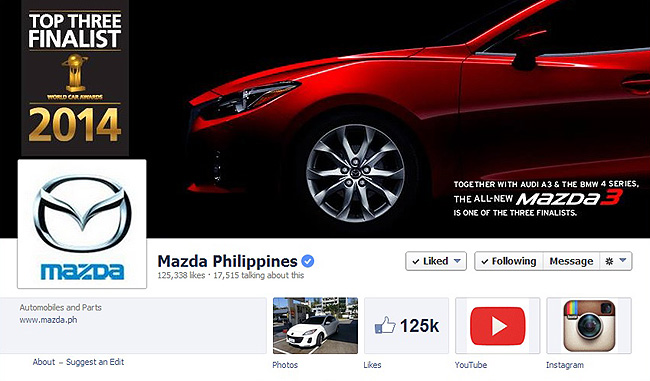 Mazda Philippines--or Berjaya Auto Philippines, as it is officially known--has one advantage over other local car manufacturers or distributors on social media: Its brand page has been officially verified by Facebook.
When you visit Mazda Philippines' Facebook page, you'll notice a blue badge with a check mark in it right beside its name. According to Facebook, this denotes a page with a large following that has been verified by the social media network "as having an authentic identity." Also, although the pages of most carmakers have the mark, not all of their national distributors have. This was pointed out to us by no less than Berjaya Auto Philippines chief executive Steven Tan.
"I have to laud the efforts of our marketing team since they're the ones in charge of our Facebook page," said Tan. "We were surprised to discover the badge on our Facebook page since we didn't even ask for it."
According to Facebook, not all authentic profiles and pages are verified and that "you can't request to have your profile or page verified."
We checked the Facebook pages of the local car manufacturers and distributors, and were surprised to discover that only Chevrolet Philippines (aside from Mazda Philippines) has also been officially verified by Facebook as being authentic.
Continue reading below ↓
Recommended Videos
It looks like the marketing departments or PR agencies of Philippine car manufacturers and distributors have their work cut out for them if they want to get this badge as well.