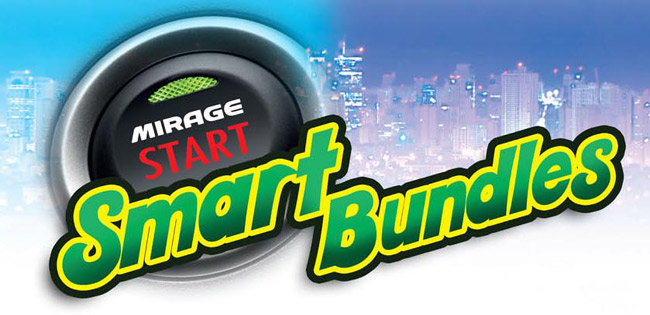 If you're planning to buy the Mirage or Mirage G4 for your first car, then you might want to consider Mitsubishi Motors Philippines' offering this month. Dubbed the "Mirage Start Smart Bundles," the promo is targeted at first-time car buyers, and offers flexible financing schemes and freebies for both the hatchback and the sedan.
Under the low down-payment all-in package, the Mirage GLX MT hatchback only asks for a P65,000 down payment, while the Mirage G4 GLX MT sedan can be had with a P60,000 down payment. The all-in package comes with a free three-year LTO registration, one-year comprehensive insurance and chattel mortgage, and free PMS (parts and labor included) up to 10,000km.
The Mirage GLX MT all-in package also includes a P5,000 Shell fuel card, while the Mirage G4 GLX MT all-in package offers premium Mitsubishi genuine accessories. The Mirage G4 GLS comes with free rear/side/front airdam, rear lip spoiler, and daytime running lights. The Mirage G4 GLX, on the other hand, comes with free genuine rear lip spoiler, tail pipe finisher, window visor, and black-out door sash.
If you plan to buy in cold, hard cash, you'll get savings of as much as P20,000. Shoppers who pay in cash also get the free PMS and Shell fuel card. The vehicles, of course, are backed by a five-year warranty or 100,000km, whichever comes first.
Continue reading below ↓
Recommended Videos
Not sure whether the Mirage or the G4 is for you? Read our reviews of the Mirage GLS MT and the Mirage G4 GLS MT.