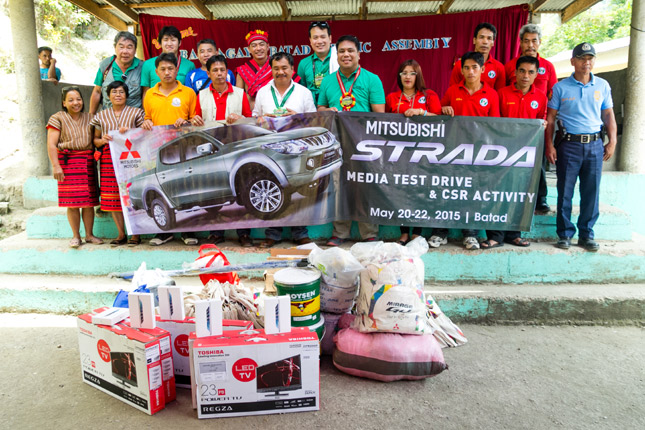 In our book, it's always nice if motor vehicles are used for the common good. That's exactly what Mitsubishi recently did with its best-selling Montero Sport and Strada vehicles.
Mitsubishi Motors Philippines traveled to the remote barangay of Batad in Banaue in Ifugao province to deliver educational materials needed by its small public elementary school.
Batad is the location of one of the five rice terraces in Ifugao--the other four being Bangaan, Mayoyao, Hungduan and Nagacadan--but it is arguably the most popular. Carved into the side of a mountain deep in a valley, the location of the Batad rice terraces has an amphitheater-like feel since it is surrounded by the lush vegetation that covers the Cordillera region. Access to Batad, however, is limited since the ongoing construction of the only road to the village terminates around two to three kilometers from it, necessitating a nearly hour-long hike going down at an elevation of over 1,100m above sea level.
Using two units of the Montero Sport and eight units of the recently launched all-new Strada, the Japanese carmaker was able to transport five LED TVs, five iPad Minis pre-installed with educational apps, educational videos, boxes of books for the library, school supplies, and paints and paint brushes for beautifying the small school building.
Continue reading below ↓
Recommended Videos
This isn't the first time that Mitsubishi Motors Philippines has extended a much-needed helping hand to the Ifugao village. Following a series of typhoons that struck northern Luzon in late 2011 to early 2012, a huge landslide damaged a portion of the Batad rice terraces. Rallied by Mitsubishi's long-time advertising photographer John Chua, the carmaker together with members of the media trekked to the village to spearhead the effort of rebuilding and rehabilitating the damaged rice terraces and paddies.
This kicked off a flurry of voluntourism activities, with volunteer tourists traveling from Manila to Batad on weekends to help with the restoration efforts, and then traveling back to Manila in time to start the new workweek.
For his role in rebuilding the rice terraces in 2012, Chua was adopted as an honorary Ifugao brother. For this year, in appreciation of Mitsubishi's continued support of the small village of Batad, MMPC vice president for marketing services Froilan Dytianquin was also adopted as an Ifugao brother.
Mitsubishi Motors Philippines never took the easy way out with this corporate social responsibility project. It didn't limit itself to camera-friendly activities in accessible locations. Instead, it took the time and effort to travel to a far-flung location that is culturally and historically significant. And despite the aching leg muscles caused by the nearly two-hour hike going up and down the remote village, seeing the 2,000-year-old rice terraces with your own eyes was well worth the effort and the buckets of sweat lost in the trek.
Photos by Mark Jesalva