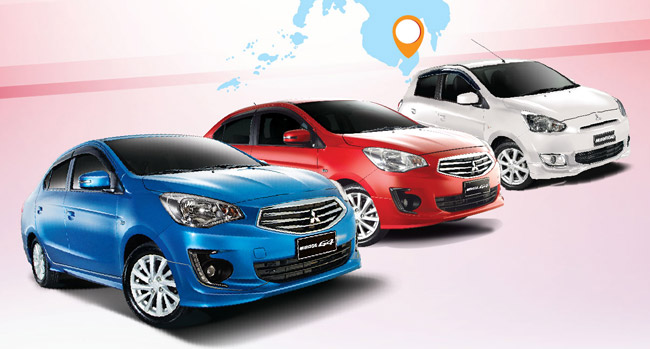 In 2007, I joined Petron's "Xtra Mile Challenge" for the media. The fuel economy run featured a fleet of Honda subcompact cars (City and Jazz). If my memory serves me right, I did a pretty impressive 1,000+km on one full tank of gasoline using a City, from Pagudpud to Bicol. If you think my mileage was incredible, a private team achieved an even better figure during the event's "Champions Edition" held in early 2008. To be exact, brothers Emilio and Emmanuel Zayco did an out-of-this-world 1,402km in a Jazz--a Philippine fuel-mileage record that stands to this day, as far as we know.
Well, Mitsubishi Motors Philippines is gunning for that record in early December, when the company drives three subcompact cars--Mirage G4 sedan MT, Mirage G4 sedan CVT and Mirage hatchback MT--from Luzon all the way to Mindanao in a fuel eco run called "Mitsubishi Mirage G4 Eco Drive Marathon: Luzon To Mindanao On One Full Tank." According to the Japanese carmaker, all three cars "are well within standard or factory stock specifications."
The eco run will commence on December 2 and should conclude within a week. The team will take off from Mitsubishi's dealership in Laoag, Ilocos Norte, and subsequently take the Philippine Nautical Highway en route to the Visayas and Mindanao legs. Doing driving and navigating duties are professional race and rally competitors like Georges Ramirez, Robbie Hermoso, Louis Ramirez, George Apacible, Ivan Isada, Raul Asuncion, Steve Acayan and Barry Ortiz. The drive, sponsored by Shell and Bridgestone, will be conducted under the supervision of Automobile Association Philippines.
Continue reading below ↓
Recommended Videos
MMPC marketing services vice president Froilan Dytianquin believes this is the first time a car manufacturer will embark on such an undertaking in the Philippines. In 2007, I was also part of Honda Cars Philippines' Luzon-to-Davao drive using the then newly launched City, but that was not a fuel economy run. The purpose of that drive was merely to show the durability and dependability of Honda's small sedan.
"We are putting the fuel economy of the Mirage G4 and the Mirage to the extreme test," said Dytianquin. "And we are confident that with their highly efficient 1.2-liter three-cylinder engine and the professional skills of our drivers, we will be able to approximately reach 1,450km from Ilocos Norte down to Mindanao."
According to Dytianquin, the Mirage hatchback has a 35L fuel tank, while the Mirage G4 sedan has a 42L fuel capacity. On paper, it seems obvious the sedans will outlast the sole hatchback.
Do you think the Mirage and the Mirage G4 can break the Jazz's record?