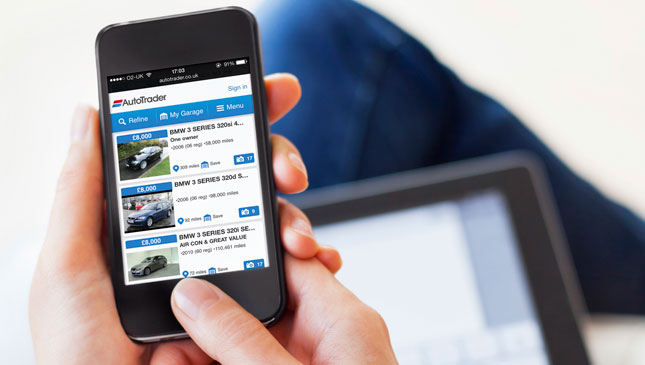 Remember the days when one would go to a car dealership, check out the models on display, and talk to a salesman? Or what about sifting through tons of car brochures just to compare specs and features? While many people still do these things today, they are fast becoming a rarity.
According to a study conducted by Auto Trader, the UK's biggest automotive marketplace, the buying public's research behavior has changed quite a bit over the past three years. Back in 2012, only 5% of the population used mobile devices to conduct research on new or used vehicle purchases. Today, this number has grown to 41%. This shows the increasing role of these handy gadgets in our day-to-day lives.
Taken from a group consisting of roughly 1,000 car buyers, the research showed the role of various devices in the entire car-buying process. While shoppers don't dismiss the dealership experience altogether, they do delay their trip to the showroom until they have thoroughly done their homework. This essentially means using their smartphone to check on vehicle prices and specifications. With at least 27% of buyers using mobile phones, the idea is for them to get quick and accurate info literally at their fingertips.
Continue reading below ↓
Recommended Videos
Once they've made a firmer decision on what model they want to purchase, they usually move on to using a laptop or desktop computer to compare brands and nameplates. The larger screen allows them to browse multiple entries, photos and specifications more easily and concisely. And upon arriving at their final decision, they are now ready to enter the dealership and close the sale.
If you really think about it, the study actually makes sense. Thanks to our smartphones, we can now reserve movie tickets, get news and current events, check Facebook, and practically work using that tiny screen and keypad. Sure, it may seem inconvenient at times, but having quick access right there and then is what matters. If information is power, he who has the info on hand can't be easily fooled by a fast-talking car salesman.
While nothing can top the experience of entering a car dealership, getting a whiff of that new-car scent, and shaking the agent's hand after putting down a deposit, it wouldn't hurt to do a bit of research. And with that little device you now hold in your hand (which you may be using now to read this), it's as easy as a swipe of a screen and a press of a key.