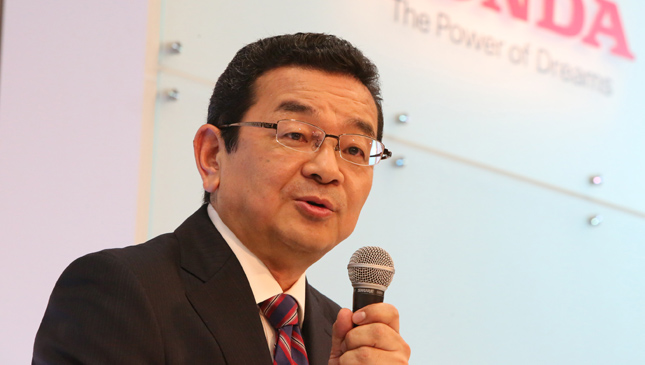 Are you one of those people who think Honda may have gone too mainstream, and wish for it to return to its fighting form during its '90s glory days? Honda Motor Company's new president and CEO Takahiro Hachigo believes excitement should be injected into the brand, and he shared his vision for doing so during a recent speech.
According to Hachigo, Honda will continue its commitment to creating "challenging products" unique to the brand. The first of the upcoming new-generation models to look forward to is the all-new Civic. It will be built on an all-new platform, and will be available with a downsized 1.5-liter direct-injection VTEC turbo engine. The bright-green near-production Civic Concept Coupe shown at the 2015 New York International Auto Show gives us a preview of the next-gen Civic's new design language.
Meanwhile, when it comes to the Accord and the CR-V, it looks like Hachigo has also noticed that, while they are fine vehicles, they don't exactly embody the level of desirability Hondas used to have. The current Accord has play-it-safe styling, while the CR-V has quirky design elements. In terms of technology, the automotive industry has already caught up with Honda, while some carmakers have even overtaken the Japanese brand.
In his speech, Hachigo mentioned that the core global Accord and CR-V models will be replaced by highly competitive new-generation vehicles that will be more attractive, feature new technologies and have innovative designs.
As far as production is concerned, Hachigo wants to utilize the capacity of its regional plants for the global market. Examples he cited included the Japanese plant supplying North America and Europe with the Jazz; the European plant assembling the next five-door Civic; and the Canadian plant producing the Euro-spec CR-V. He didn't mention any details regarding Southeast Asian operations, but we can expect those to remain the same.
ADVERTISEMENT - CONTINUE READING BELOW ↓
Hachigo also announced that the successor to the hydrogen-powered FCX Clarity will be launched in Japan early next year. He also took the opportunity to discuss other products, including the new CRF1000L dual-purpose motorcycle and the HondaJet light business aircraft.
Sounds like the Japanese carmaker will be extra busy in the next few years. Do you think Honda will get its mojo back?