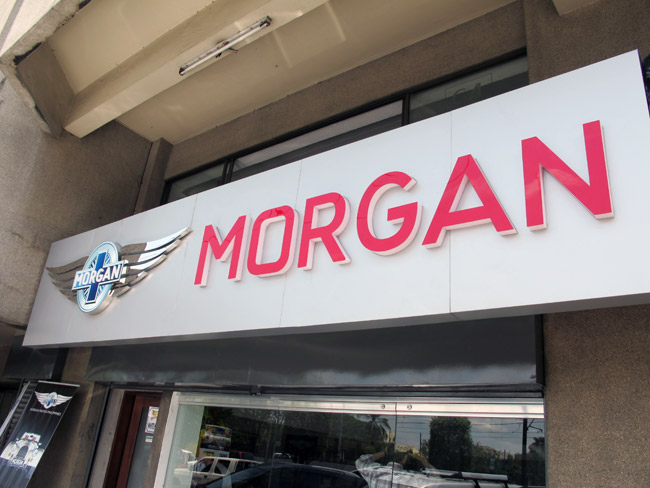 Finally, after launching its brand in the Philippines and making a sort of muted noise last year, Morgan Motor Company, through local distributor White Knight Automobiles, finally has a showroom in the country. Morgan officially inaugurated today its boutique sales facility at Midway Court Building along EDSA Greenhills (near PGA Cars). Unlike the brand launch in October--in which the display cars were borrowed units from Morgan owners--the showroom inauguration this morning already featured brand-new units available for sale.
To our further delight, we met the president of the local distributor. His name? Morgan Say. Yes, his given name is actually the same as the British carmaker, but that's only by pure coincidence.
"When we were negotiating with Morgan some three years ago, I really had no idea what the brand was," Say told TopGear.com.ph. "Well, I did have a vague idea about it but only because friends would tell me that I shared my name with a British car brand."
In attendance during the showroom inauguration--and lending the distributor much-needed credibility--was the British Embassy's deputy head of mission, Trevor Lewis.
We asked about the prices of the Morgan models available to Filipino buyers, and noted that some of the current figures (quoted to us by Say himself) are much higher than the ones the company gave us last year:
Continue reading below ↓
Recommended Videos
3-Wheeler: P3.5 million
Plus 4 (2-seater and 4-seater): P5.5 million
Plus 8: P9 million+
Roadster: P6 million+
Aero Coupe: P9.9 million
Aero Super Sports: P12.9 million
4/4: P4 million+
The cars, said Say, come with a two-year warranty.
Asked if they can provide good after-sales service, Say answered in the affirmative, pointing out that "minor repairs" would take only a month or less. The company has partnered with AutoPlus Sportzentrium--located just a stone's throw from the Morgan showroom--so that units for repair and maintenance will be brought and serviced there under the supervision of an authorized Morgan technician.
Say added that they will also provide service even for existing units bought from the gray market, with no special fees to be paid by their owners.
Finally, Say revealed that his company's sales target is a surprising "one unit a month," or "10 to 12 units a year." Apparently, this number is enough for White Knight Automobiles to break even.
Anyway, if you or a friend is interested in a Morgan automobile, you now know where to go.
Photos by Vernon B. Sarne