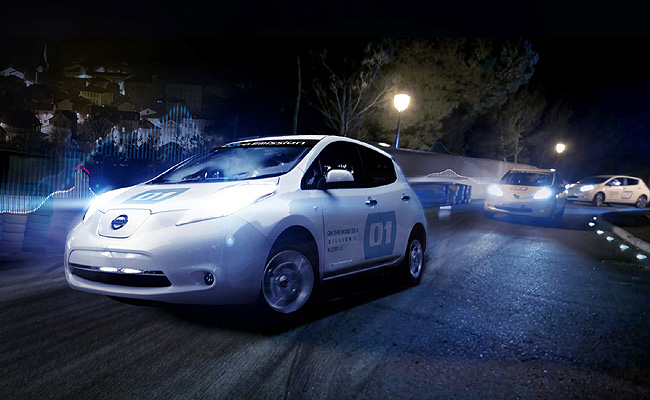 Nissan marked the 19th annual International Noise Awareness Day last April 30 by taking its 100% electric-powered Leaf for a 5km "silent ride" in one of Europe's quietest villages in the middle of the night.
The village is in the Provence-Alpes-Côte d'Azur in France, and the activity was "designed to demonstrate the noise reduction levels of the zero-emission car compared to traditional combustion engines."
Filmed in the early hours of the morning, four Nissan Leafs raced around the village's backstreets with the only casualties being some knocked-over garbage cans and one side mirror. The cars even drove quietly through a barn without waking any of the livestock. Even some of the villagers who supposedly consented to being filmed slept soundly as the cars passed by their houses.
According to Nissan, the running noise of the Leaf's engine is 21dB, which reportedly means its quieter than a ceiling fan that has a noise level of 26dB and way below the World Health Organization's nighttime noise target of 40dB for Europe.
"One thing that surprises people most about the Leaf is the feeling of near silence," said Nissan Europe's director for electric vehicles Jean-Pierre Diernaz. "It is incredibly liberating and makes for a very relaxing driving experience. Most of the noise you hear when a Leaf is running at low speed in town is actually artificially created to help alert pedestrians to the vehicle's presence. Electric vehicles like the Leaf will play a very large role in the move to create smarter cities worldwide--cities that aim to create smart solutions to a range of city problems, from air pollution to traffic congestion. The goal is to build cities like these where people drive electric vehicles. This is a concept that Nissan supports wholeheartedly and aims to be a part of now and in the years to come."
Continue reading below ↓
Recommended Videos
If you're viewing this on a mobile device and can't see the video, please click here.