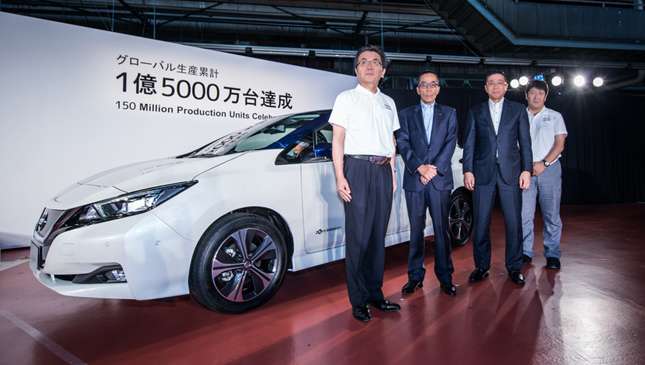 Nissan has now surpassed 150 million vehicles in global production. The Japanese carmaker announced the landmark achievement earlier this week, taking the opportunity to thank its shareholders, employees, and loyal customers for their continued support.
According to the company, the milestone vehicle rolled out of the factory sometime last month. Strangely, the manufacturer made no mention of exactly what model it was and which production plant had the honor of building Nissan number 150 million.
It took Nissan a total of 84 years to reach 150 million units produced since the company's founding back in 1933. As a testament to the company's rapid globalization the past few decades, a third of the figure was produced in just the last 10 years. That's 50 million vehicles for those too lazy to do the math.
Continue reading below ↓
Recommended Videos
Even more impressive is that over 76% of the vehicles produced this past decade were made outside Japan. In contrast, 76.5% of the company's first 100 million cars were made in the company's home country.
So now that that's out of the way, what's next? Well, the company just recently launched the all-new Nissan Leaf--proof of the company's continuing momentum. Other than that, continued growth and expansion, a continued commitment to monozukuri (that's 'craftmanship' in Japanese for you) and another 150 million units, Nissan says. We're looking forward to it.