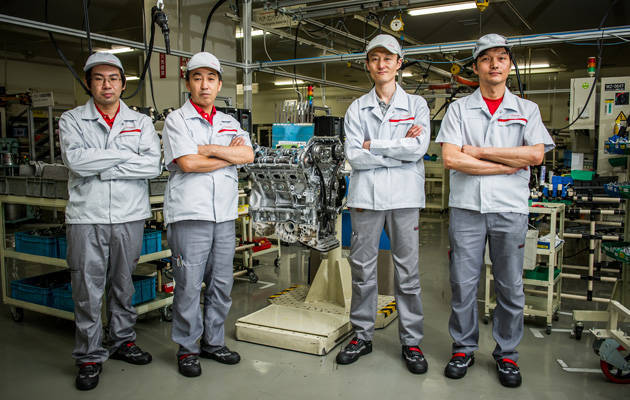 Apparently, in Japan, the term takumi is used to describe a craftsman "who has perfected his skills over years of painstaking work and dedication." As it so happens, Nissan has recently designated four of its employees as takumi for building by hand the engines that power the GT-R.
The four takumi are Takumi Kurosawa, Tsunemi Ooyama, Izumi Shioya and Nobumitsu Gozu. According to Nissan, the four engine builders collectively share over 100 years of experience in their field. They are also responsible for building by hand the 545hp, V6 twin-turbo VR38DETTT engine that can be found underneath the hood of the GT-R.
Once an engine is completed, the takumi proudly mounts a plaque bearing his name on the engine, which serves as "a timeless reminder of the high level of craftsmanship and expertise that went into each work."
Many GT-R owners have reportedly visited Nissan's Yokohama plant to meet the takumi that assembled their car's engine, including late-night TV talk show host Jay Leno.
"Yokohama is the plant where our company was established, and we're proud to make Nissan's flagship engine here," said Nissan's Yokohama plant manager, Nobuhiro Ozawa. "It represents the pinnacle of the Nissan brand. We adhere the nameplates of the takumi who hand-built these engines and put their souls into each one with a sense of responsibility."
Continue reading below ↓
Recommended Videos
We wish all car engines were this meticulously built.