[previous|page|next]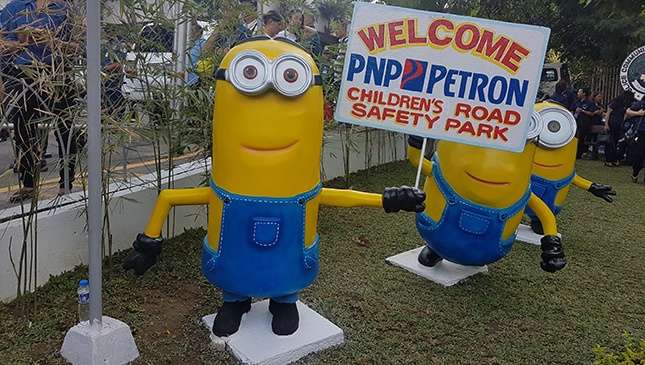 Are Filipinos a hopeless case when it comes to road discipline? Without fail, this question arises every time people engage in discussion about the daily traffic. The same question pops up when discussions venture into road accidents. May they be government officials, business executives, or ordinary citizens, chances are they'll all agree there's a breakdown in road discipline in the country.
So, what can we do about it?
Remember Dr. Jose Rizal's line "Ang kabataan ang pag-asa ng bayan?" In partnership with the Philippine National Police (PNP), Petron Corporation appears to be towing this line when it spearheaded the establishment of a big interactive road safety park inside Camp Crame premises in Quezon City.
Continue reading below ↓
Recommended Videos
Dubbed as the PNP Petron Children's Road Safety Park, Director General Ronald 'Bato' dela Rosa approved the conversion of a once idle area inside the main police camp into an educational venue, where children can digest the importance of behaving on the streets either as a mere pedestrian, passenger or future driver. General Bato and his wife Nancy led the ribbon-cutting ceremony.
The Children's Road Safety park is a brainchild of Chief Supt. Gilbert Cruz of the Police Community Relations Group and Petron Foundation general manager Chairmaine V. Canillas, that was subsequently supported by General Bato and Petron president and chief executive officer Ramon S. Ang.
"As you know, the best time to be responsible adults is when we're still young. The PNP Petron Children's Road Safety Park aims to teach schoolchildren and instill in them responsibility, respect, and patience," said Canillas, who is also Petron's AVP for Corporate Affairs, while reading the speech prepared by Ang.
"With the vision of creating accident-free roads for responsible motoring, the park is open to all to increase awareness," Canillas added.
With a fleet of toy cars and motorcycles, child-friendly directional signs, a mini version of a Petron fuel station, and a gang of superheroes acting as 'traffic enforcers,' the newly-constructed facility appears like the Philippine version of Neverland, where kids will enjoy while learning traffic safety rules.
Before entering the park, visitors will be briefed by the PNP-PCRG on road safety rules and regulations. The kids can pedal around the park's well-paved routes complete with pedestrian lanes, road humps and traffic symbols.
If the police marshals aren't enough to make the children behave on the road, the life-size statues of the Incredible Hulk, Wonder Woman, Mazinger Z and Batman will hopefully do the trick. And if they behave, the lovable Minions—Kevin, Bob and Stuart—are waiting at the grassy portion to give them a big hug.
Hey kids! After that memorable driving experience, would you like to say 'thank you' to General Bato? His big statue is just around the corner waiting for you.
By the way, the PNP chief is nice to those who obey traffic rules. Are you one of them?